DRUG DEVELOPMENT EXECUTIVE – ProQR: Developing RNA Therapies for Rare Genetic Disorders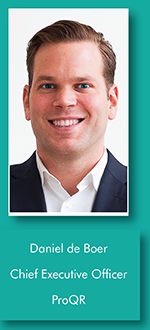 There is a great need for transformative treatments that increase life expectancy and improve the quality of life of patients and families living with rare inherited diseases. Current therapeutic approaches, including small molecules and enzyme replacement therapies, have limitations and cannot be applied to every disease. ProQR specializes in the development of RNA therapies and is expanding its toolbox of RNA approaches to develop life-changing medicines for rare genetic disorders that are currently untreatable. Drug Development & Delivery recently interviewed Daniel de Boer, CEO of ProQR, to discuss the use of RNA technology to directly target the underlying cause of genetic diseases.
Q: Can you explain why you started ProQR and provide an overview of the company for our readers
A: I know first-hand how rare diseases can impact patients and their loved ones. When my newborn son was diagnosed with cystic fibrosis, my world suddenly changed. Not only did I want to do something that would help my son, but I also wanted to help other patients and families in a similar situation. This fueled my passion to develop therapies for people diagnosed with potentially treatable rare diseases. As a result of my son's diagnosis, I partnered with Dinko Valerio, Gerard Platenburg, and Henri A. Termeer, three eminent rare disease treatment pioneers, to form the company now known as ProQR.

ProQR is a clinical-stage biotech company that focuses on rare diseases that have a high unmet need for new medicines. There are more than 5,000 known rare genetic diseases with a genetic basis, yet less than 5% of diseases have approved treatment options and even fewer have options that target the underlying cause of the disorder. Our strategy is to target the underlying cause of rare diseases by making changes to the faulty RNA that is the root cause. Our RNA technology has broad applicability to a number of existing conditions that currently lack treatment options.
Q: Why does ProQR focus on RNA therapies?
A: RNA therapies enable us to correct diseases caused by defective genes and help restore protein expression without permanently modifying a patient's genetic makeup. At ProQR, we developed different RNA repairing technologies, each with the potential to address a different type of genetic defect. As the underlying cause of a genetic rare disease is discovered, we can determine which of our RNA repairing technologies are most applicable and work to make an impactful treatment for those affected by the rare disease.
Q: How do RNA therapies differ from gene therapy and gene editing?
A: Several genetic diseases cannot be treated with gene therapy, due to different technical and medical reasons. Our RNA technology has the potential to treat diseases that are considered untreatable through gene therapy. One example of this is Leber's congenital amaurosis type 10 (LCA10), an inherited retinal degenerative disease. Gene therapy is ineffective in treating LCA10 because the defective gene codes for the protein, CEP290, have to be expressed at a certain level. Too little CEP290 expression causes LCA10, and if overexposed, CEP290 can become toxic and damage the retina directly. Gene therapy-based treatments have the potential to replace the defective gene with one expressed at higher levels, potentially causing toxicity.

Another key difference is that repairing RNA does not change the basis of a person's genetic code. This means that any potential adverse side effects from the treatment are temporary in nature, minimizing any harm they may cause. This is also the key difference with DNA editing, which makes a permanent, irreversible change to a person's genes.
Additionally, RNA-based therapies are easier to deliver to therapeutic targets than gene therapies. One example of this is blindness. Usher cannot be treated with gene therapy because the disorder develops peripherally in the retina and progresses inward. Gene therapies for this disease would have to be delivered by sub-retinal injection, where the drug is delivered to a specific area in the retina, and is only expressed in that area. This limits the therapeutic effect of the drug to the site of injections. The RNA therapy we are developing for Usher is administered through a routine procedure called intravitreal injection, a route of administration that allows the therapy to reach the whole retina. This effectively treats a larger area than the one that can be reached with a sub-retinal injection.

Q: Can you provide an update on your development status?
A: We have several different clinical-stage research programs currently. First, we are in an ongoing Phase 2/3 clinical trial that is designed as the sole registration trial of an RNA therapy called sepofarsen (QR-110). Sepofarsen is being developed for the treatment of LCA10 in patients who suffer from the p.Cys998X mutation in the CEP290 gene, the most common mutation causing LCA10. The goal of sepofarsen is to repair the underlying defect in the CEP290 RNA and potentially reverse the vision loss associated with the disease. Interim Phase 1/2 trial results showed rapid and sustained improvement in vision in LCA10 patients treated with sepofarsen. In addition, sepofarsen was well-tolerated with a positive benefit/risk profile. As a result of the Phase 1/2 top-line data, we received PRIME Access from the European Medicines Agency, which provides an accelerated pathway for evaluation and approval.
We are also developing QR-421a as a potential therapy for patients with Usher syndrome due to mutations in exon 13 of the USH2A gene. Usher syndrome, as I mentioned briefly before, is a severe rare disease that is the leading cause of combined deafness and blindness. In March 2019 the first patient was dosed in the Phase ½ STELLAR clinical trial for QR-421a. This trial includes patients with Usher syndrome type 2 or non-syndromic retinitis pigmentosa (RP) and we expect interim data in Q1 2020. Additionally, QR-1123 for Autosomal Dominant Retinitis Pigmentosa received both FDA Fast-Track Designation and IND clearance and will start trial enrollment soon.
Lastly, we are actively developing our Axiomer® RNA editing technology that can be used to allow the body to repair its own RNA. The Axiomer platform is positioned to target a wide range of diseases in a highly specific manner. With more than 20,000 disease-causing mutations that can potentially be treated with our Axiomer technology, we have the potential to apply Axiomer to a number of additional genetic rare diseases in the future.
In our recently announced "Vision 2023" strategy, our goal is to develop ProQR's platform of RNA medicines for patients with inherited retinal diseases. For this plan, our goal is to expand our portfolio to include at least seven new programs to complement our ongoing research as we establish ourselves as leaders for the treatment of genetic blindess diseases.
Q: Can you tell us more about Axiomer and how it works?
A: Our Axiomer technology is a proprietary RNA editing tool that is conceptually similar to CRISPR and other DNA editing technologies, but targets the RNA. Axiomer relies on specialized molecules called Editing Oligonucleotides (EONs) that make a specific targeted modification to RNA to reverse mutations that cause genetic diseases. Because Axiomer RNA editing uses enzymes present in all human cells, there are fewer concerns with off-target genetic alterations that are sometimes seen with DNA editing.
We have already demonstrated in vivo proof-of-concept for Axiomer in a mouse model of Hurler syndrome, presented at the 2017 Oligonucleotide Therapeutics Society (OTS) Meeting in Bordeaux, France.
Q: What can we expect from ProQR in the near future?
A: We expect interim data for the Phase 1/2 STELLAR clinical trial for QR-421a for Usher syndrome expected in Q1 2020. Furthermore, we continue to pursue strategic partnerships to bolster our ability to bring meaningful treatments to patients suffering from rare disease with significant unmet need. For example, throughout the past year, we have entered into several stragetic parnterships to help us continue our research. In February, we partnered with the Foundation Fighting Blindness to develop QR-421a for the vision loss associated with Usher syndrome type 2A. This year, along with EB Research Partnership, we spun out all of our dystrophic epidermolysis bullosa activities into the newly formed Wings Therapeutics. Last year, we signed an exclusive agreement with Ionis to in-license IONIS-RHO-2.5Rx, now QR-1123, for the treatment of adRP.