DELIVERY DEVICES – Growing Connected Market Set to Elevate Healthcare Outcomes
INTRODUCTION
The market for connected drug delivery devices is projected to grow by as much as 23.4% each year between 2022 and 2030, with the value of the category expected to reach $25.6 bil­lion by 2030.1 This rapid expansion is being fuelled by trends both within and outside the healthcare sector: the increased adoption of the Internet of Things (IoT) through smarter devices with sophisticated sensors and processing ability; a growing recognition that enabling contactless health services strengthens efficiency (further reinforced by the Covid-19 pandemic); and the trend toward smarter consumer devices tracking health metrics.2
Introducing digital features to medical products is a logical step in light of these trends, but there are also commercial and healthcare incentives. As the industry continues to grow and de­velop, the following examines what the connected device market will look to achieve in the coming years and how it is likely to drive improved adherence to treatments and improve overall healthcare outcomes.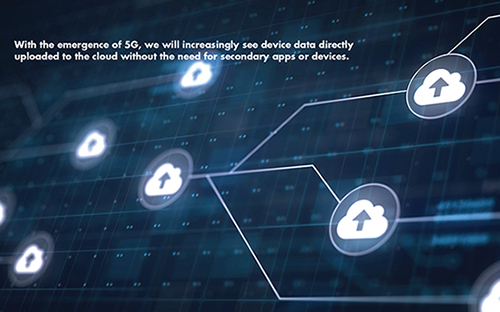 STRENGTHENED PATIENT SUPPORT
Given the current trends in drug development, developing drug delivery devices that provide users with detailed instructions for each step of the injection experience is particularly important. As well as an increase in the move from intravenous to subcuta­neous administration, drug formulations are changing as com­panies look to minimize disruption to patients' lives by increasing the time between injections. Some extended-release formulations allow patients to go much longer between treatments, in some instances up to 6 months. With patients using devices less fre­quently, there is a greater need for clear guidance during the in­jection process.
Connected devices can provide real-time, in-use feedback to patients to guide them through each step of using the device. This helps reduce the risk of errors in the injection process during self-administration, which could lead to a failed or incomplete dosage. Additionally, training devices, with enhanced sensors al­lowing specific and individualized guidance to those using a de­vice for the first time, can also help to increase patient confidence and successful administration. They may also be a reassuring support tool for those switching devices.

In addition to the guidance patients receive from their device, the collection of injection data is set to become a simpler process for patients. Currently, most connected devices are accompanied by a smartphone app that must be downloaded for access to de­vice data such as injection reminders. However, with the emer­gence of 5G, we will increasingly see device data directly uploaded to the cloud without the need for secondary apps or devices. This will enable real-time data transfer, allowing health­care professionals to monitor treatment remotely without the need for any input from patients. Apps are likely to take on a secondary role with data transferred from the cloud back to the apps for pa­tients to view if they wish.

A HOLISTIC VIEW OF PATIENT HEALTH
A plethora of data can be captured and stored by connected drug delivery de­vices, such as detailed real-time data about injection date, time, dose, and in­jection site as well as confirmation of the drug and expiry date. These could be combined with other data sources to pro­vide a holistic view of patient health and to better understand their specific treat­ment needs. Both physiological data – such as blood pressure and heart rate – and lifestyle data around sleep and exer­cise habits are now easily captured and consistently monitored due to wearable devices such as smart watches. In the fu­ture, using information collected from these consumer products in conjunction with data from drug delivery devices could be invaluable in triggering the necessary patient interventions and ultimately im­proving healthcare outcomes.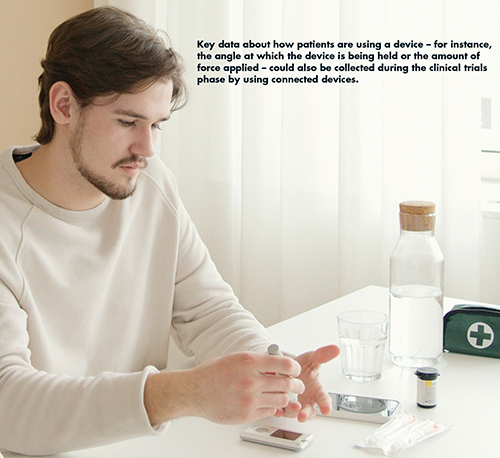 In healthcare settings, what we have seen so far is limited interoperability – the ability of computer systems or software to exchange and make use of information – and data integration. This is beginning to change due to the increasing focus on re­mote patient monitoring. Providers are seeing the benefits integrating data can bring in terms of healthcare outcomes.3 As a fuller picture of a patient is developed through multiple data sources, healthcare professionals ideally would be able to de­velop optimal treatments or treatment reg­imens tailored to each patient. This in turn is likely to increase adherence to treatment plans, create an overall healthier popula­tion, and thereby reduce financial strain on payors and healthcare systems.
BETTER PERFORMING DEVICES
Key data about how patients are using a device – for instance, the angle at which the device is being held or the amount of force applied – could also be collected during the clinical trials phase by using connected devices. This can then be used to support data gathered during human factors studies – providing evi­dence that patients are using devices as in­tended during clinical trials. Post launch, the data can be useful in identifying and resolving any user issues, as well as en­abling root cause analysis. This informa­tion can also be passed onto the device manufacturer who can work on usability issues and determine if design changes may be necessary for certain patient groups. This means the data collected from connected drug delivery devices over time will play a critical role in improving the device itself, and ultimately providing an optimized experience for patients.
GREATER DEVICE OPTIONS FOR PHARMA COMPANIES
With the connected device market evolving rapidly and numerous manufac­turers looking to be part of it, there is a in­creasing list of device designs and configurations for pharmaceutical companies and patients to choose from – span­ning from single-use and reusable devices to integrated or add-on connectivity. Opin­ions on the best options are constantly changing as wireless technology and the performance of different electronic com­ponents continue to evolve. Commercial arguments are also shifting as regulations evolve rapidly and sustainability consider­ations grow in importance. With significant differences in regulatory approval path­ways and environmental standards, the best options in one market may not nec­essarily work for another.
Due to this myriad of changing fac­tors, pharma companies are understand­ably looking for flexible drug device platforms. Devices that can accommodate different fill volumes – for instance, through innovations such as self-adjusting plungers – are understandably more at­tractive. Likewise, devices that can work with or without connectivity are useful to pharma companies, as they allow flexibil­ity based on the preferences of a particular patient group, or the cost and reimburse­ment status in different healthcare mar­kets. The ability to choose between single-use and reusable devices depend­ing on therapy, market, and patient needs is also important for pharma companies looking for suitable device manufacturers. Going forward, these different avenues should lead to an array of different device options and features being developed – meaning more choice for both pharma­ceutical companies and their patients.
SUMMARY
The growth in the connected drug de­livery market in the coming years is likely to lead to improvements in a number of areas. Patients will have access to devices that are more intuitive and user friendly, helping them to be more confident during self-administration and improving the in­jection process. Moreover, the ability of de­vices to upload data directly to the cloud will help optimize the process of data col­lection, allowing for real-time data transfer without manual input from patients them­selves. As more data is gathered on how patients are using devices and where is­sues are occurring, manufacturers will be able to modify devices to meet the needs of different patient groups. In turn, this will provide further options for patients who are already beginning to benefit from the numerous options emerging from a growing connected drug delivery device market.
REFERENCES
GrandView Research. Connected Drug Delivery Devices Market Size, Share & Trends Analysis Report By Product, By Route Of Administration (Parenteral, Inhalational), By Application (Asthma, COPD, Diabetes Management, Others), By Region, And Segment Forecasts, 2023 – 2030. https://www.grandviewresearch.com/industry-analysis/con­nected-drug-delivery-devices-market.
GrandView Research. Connected Drug Delivery Devices Market Size, Share & Trends Analysis Report By Product, By Route Of Administration (Parenteral, Inhalational), By Application (Asthma, COPD, Diabetes Management, Others), By Region, And Segment Forecasts, 2023 – 2030. https://www.grandviewresearch.com/industry-analysis/con­nected-drug-delivery-devices-market.
Keith, J. et al. How better use of data can help address key challenges facing the NHS. https://www.health.org.uk/publications/long-reads/how-better-use-of-data-can-help-address-key-challenges-fac­ing-the-nhs#:~:text=Good_use_of_data_is,evaluate_efforts_to_integrate_care Steventon, A. Helping the NHS use data better to improve patient care. https://www.health.org.uk/news-and-comment/blogs/helping-the-nhs-use-data-better-to-improve-pa­tient-care.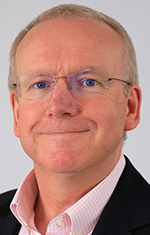 Michael Earl joined Owen Mumford as Director of Pharmaceutical Services in November 2020. He was previously the Commercial VP at Bespak, leading the commercial team there to drive growth in their substantial medical devices business. Prior to that, he worked for several pharma, biotech, and device companies. In a career spanning more than 35 years, he has been responsible for all aspects and stages of drug and device development and commercialization. He has also completed a substantial number of commercial, licensing, and M&A transactions.