CUSTOM DEVICE SOLUTIONS – Device Design Will Act as Competitive Distinguisher in a Post-Patent Expiry Biosimilar Market
INTRODUCTION
The biosimilars landscape is rapidly evolving; we've seen a vast number of original reference biologics reach expiry for patent exclusivity – 15 in the US during the 2018-2023 period alone – and the market opportunity for biosimilar manufacturers expand in parallel.1 As some of the world's best-known biologics continue to reach patent expiration, the approval and uptake of biosimilars is expected to pick up even more over the coming years. The US market is poised to welcome many new biosimilars in 2020, spurring competition that will inevitably lead to savings for the healthcare system. In fact, introducing biosimilars of complex biologic drugs used to treat illnesses such as rheumatoid arthritis could cut healthcare spending in the US by $54 billion throughout the next decade.2 Yet, this market incentive may not suffice to really drive biosimilar uptake. For biosimilar manufacturers to succeed within this freshly competitive market, they will need to factor in several crucial non-price aspects into their product offering. The following will dissect the different factors that will determine biosimilars' adoption and pace of advancement against their original counterparts, namely clinical confidence in the biosimilar and patient confidence in the drug delivery device.

DEMONSTRATING INTERCHANGEABILITY
Switching patients from original biologics to biosimilars is not necessarily an easy or required procedure. While biosimilars are highly similar in structure, biological activity, and immunogenicity profile to their already approved biopharmaceutical reference product, their active ingredients are not identical to the original product, and the natural variability and complex manufacturing process of biosimilars do not allow for an exact replication.3 This is undeniably a potential source of existing concerns about swapping from one product to another. Today, there is still not enough evidence to demonstrate a total interchangeability between the original reference biologics and their respective biosimilars, and regulators such as the FDA are demanding an increasing level of data to support biosimilar approval. While regulators in global markets may continue to act with due caution in designating biosimilars as interchangeable, some independent studies have started to fill in the gaps with evidence of such a transition being well-tolerated by patients and demonstrating equal efficacy and safety as their originator medicine.4 With these, confidence in biosimilars for their approved indications has grown and alleviated some of the initial concerns about their use, particularly when initiating therapy in patients.5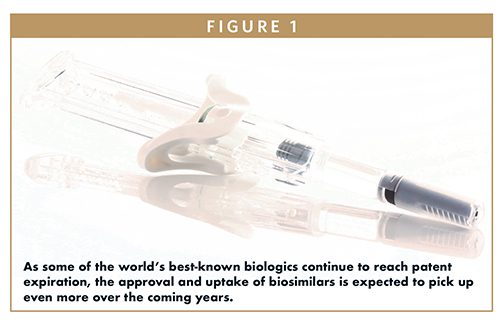 THE ROLE OF DRUG DELIVERY DEVICE DESIGN
Beyond the general confidence in biosimilars as an equally efficient and safe biologic alternative, cultivating physician and patient confidence in a specific biosimilar product and its drug delivery device is also crucial to biosimilar uptake. With self-administration among patients with chronic illnesses on the rise, the importance of the design of the subcutaneous injection device is more important than ever before and may become a deciding factor for patients who are eligible for a switch to a biosimilar. Given that the treatment of chronic illnesses may require frequent injections, and that patients are increasingly carrying these out themselves, patient usability and ease-of-use should be high on the list of considerations for biosimilar manufacturers when partnering with medical device manufacturers or particularly if designing their own injection device.

More specifically, devices with hollow-bore needles or syringes that retain an exposed needle after use present a heightened risk of needlestick injury, while auto-injector or prefilled safety syringes typically minimize this risk and minimize the risk of dosage errors.6 Allowing older, debilitated, and less-dextrous patients to securely hold and operate the device without any assistance, these instruments contribute to providing patients with the independence that comes with self-administration, while reducing the risks associated with unsupervised self-care. Similarly, with patients who self-administer having to bring the delivery device into their homes, ensuring total safety for their families and other residents will be of utmost importance to them. Equally, safety syringes help protect hospital and non-hospital healthcare workers against potential infection through sharps. A safe, user-friendly device may be the tipping point that pushes existing users to accept a loss of habit and familiarity in the name of usability and confidence.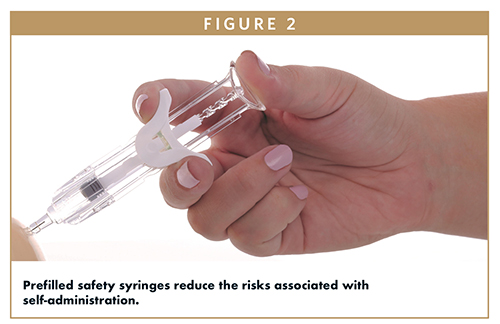 Under these circumstances, it is strategically necessary for manufacturers to carry-out human factors studies to support the design and development of their device in order to mitigate any potential risks associated with the use of the device, and seek to eradicate these risks with best-practice design. It will be crucial for biosimilars manufacturers seeking to encourage patient adherence to be able to demonstrate that user-associated risks have been thoroughly assessed and addressed – and doing so successfully will act as valuable competitive distinguisher within this highly competitive post-patent market. Some pharmaceutical manufacturers are even known to have made exclusive arrangements with device manufacturers as a means of ensuring a monopoly over an efficient device design and providing their biologic product with a competitive edge.7
CONSIDERATIONS DURING THE DEVELOPMENT PROCESS
To delve further into the specific elements that should be factored into the design during device development, it is the interface with the primary container that will first require careful consideration. Throughout each stage of the development process, manufacturers will need to keep a careful eye on all things relating to regulatory compliance of the device, particularly in light of the growing complexity and scrutiny of regulatory requirements, as well as compliance with key relevant standards. As previously mentioned, human factors studies will be the next stage of the device design process, which will need to be undertaken in an all-encompassing manner, as well as factoring in ISO10993 compliance for biocompatibility of materials for cytotoxicity, irritation, and skin sensitization. Commentators recommend paying special attention to the following list of considerations: usability and robustness; assembly and manufacturing risk management; supply chain reliability; environmental/disposal risks, and post-shipping device performance as part of the development process.8 On a final note, keeping the design review process open and transparent by compiling a complete design history file will also be beneficial for device manufacturers in demonstrating effective risk-assessment and providing confidence to their pharmaceutical and biotechnological partners.
SUMMARY
Our own research has estimated the market opportunity for biosimilars to be $5.24 billion per year in the US – making this window of opportunity a lucrative one.9 However, getting a slice of this cake means not perceiving biosimilar adoption as a given. Biosimilar manufacturers will need to demonstrate true interchangeability of their product with its original reference product, while also capitalizing on the competitive edge that comes with offering an attractive, user-friendly, and safe delivery device if they are to increase their market shares. When all user-related considerations have been addressed, manufacturers must also be sure to consider all other stages of the device production, from the primary container of the device to its packaging, to further set themselves apart from the competition.
REFERENCES
Owen Mumford, Competitive Entry, November 2019.
PharmaVoice, The Biosimilars Market, May 2019: https://www.pharmavoice.com/article/2019-05-biosimilars.
Lexocology, Biosimilars and patents, June 25th 2019: https://www.lexology.com/library/detail.aspx?g=215a4d2d-3f26-4f9e-a19c-4cfc77bec851.
Such as American College of Rheumatology, Biosimilar Infliximab (CT-P13) is Not Inferior to Originator Infliximab: Results from a 52-Week Randomized Switch Trial in Norway, 22 Oct 2016.
European Medicines Agency. Biosimilar medicines. http://www.ema.europa.eu/ema//index.jsp?curl=pages/medicines/general/general_content_001832.jsp&mid=WC0b01ac0580bb8fda; European Medicines Agency. Biosimilars in the EU. Information guide for healthcare professionals. Updated 27 April 2017. http://www.ema.europa.eu/docs/en_GB/document_library/Leaflet/2017/05/WC500226648.pdf.
World Health Organization, Needlestick Safety and Prevention, Independent Study.
Outsourcing-Pharma, Pharma turning to injectable systems to protect biologics, 22 Jun 2015.
For instance: Pharmaceutical Online, M Song, 4 Important things to consider before designing a drug delivery device, 6 Aug 2019.
Owen Mumford, Competitive Entry, November 2019.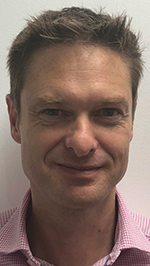 George I'ons is currently Head of Product Strategy and Insights at Owen Mumford, having worked for the former OEM and now Pharmaceutical Services division of the organization since 2006. His current focus is on deciphering the rapidly changing pharmaceutical and biotech sectors in relation to their needs for combination products. In his previous roles in business development, he worked closely alongside R&D to develop devices for a variety of global pharmaceutical and diagnostic clients. Prior to Owen Mumford, he worked for Abbott in EMEA marketing roles in Germany, focusing on their diabetes business.