CLINICAL TRIALS – Leaning Into Investigator Sponsored Trials
INTRODUCTION
Investigator Sponsored Trials (ISTs) elicit visceral reactions from both start-up and established pharmaceutical companies. When properly implemented, ISTs can identify new uses for marketed drugs, advance the scientific understanding of a drug that is in development, or provide a therapeutic outlet for patients who have limited treatment options. ISTs can also be a source of frustration for pharmaceutical companies as timelines can be longer than anticipated, there may be limited access to study data, and publication of trial data is at the discretion of the Investigator. By understanding the challenges associated with ISTs, stakeholders can utilize ISTs to deliver high-contrast clinical data on underserved patients.

ISTs are defined by the FDA as unsolicited, independent research in which the investigator or the institution (academic, private governmental) serves as the Sponsor and the pharmaceutical company provides support in the form of study drug, protocol development assistance, or financial support. ISTs are equally important for approved and investigational products. For established products, ISTs can be utilized to identify new diseases or patient populations that will lead to label expansions. For emerging products, ITSs can help define preliminary efficacy and safety to de-risk the product ahead of late-phase development studies.
IST SUCCESSES
Successful ISTs have provided the foundation that ultimately led to the approval of numerous notable medicines (Table 1). Prior to the initiation of ISTs, GLEEVEC®, IBRANCE®, and Nolvadex were sitting on the shelves of large pharmaceutical companies. In each case, an intrepid Investigator – Brian Druker, MD, Oregon Health & Science University (GLEEVEC), Dennis Slamon, MD, PhD, University of California, Los Angeles (IBRANCE), and V. Craig Jordan, CMG, OBE, FMedSci, University of Leeds (Nolvadex) – identified a key mechanistic insight and then spent years lobbying CIBA (and later Novartis), Pfizer, and ICI Pharmaceuticals, respectively, for access to the drugs to test their hypothesis. Through their perseverance, the investigators each won over the pharmaceutical companies and initiated their respective ISTs.
Conducting ISTs within a large academic research hospital afforded Drs. Druker, Slamon, and Jordan a distinct advantage over pharmaceutical companies. These researchers work at the intersection of patients, basic researchers, and translational researchers, all of whom were committed to finding novel medicines to treat diseases. The passion and drive of these academic researchers to explore the unknown would be hard to replicate within a pharmaceutical company, which are large, matrixed organizations that are generally risk averse.
The success of Drs. Druker, Slamon, and Jordan fundamentally changed the course of treatment for patients with chronic myelogenous leukemia and hormone receptor-positive breast cancer. Since then, there have been numerous other success stories wherein the insight of an Investigator led to the initiation of an IST and ultimately the approval of a drug.

IST CONSIDERATIONS
In most cases, the trajectory for the success of an IST can be determined before the first patient is enrolled. There are common issues to each IST that when constructively discussed between the Investigator and the pharmaceutical partner can be addressed to ensure that the trial meets both parties' expectations. A summary of common issues and potential mitigation steps are provided in Table 2.
IST BENEFITS
Pharma Perspective
Large pharmaceutical companies are increasingly embracing the power of ISTs. In particular, ISTs have been most often utilized to explore new uses of late-stage development or marketed products.
Even the largest multinational pharmaceutical companies operate within a constrained budget and cannot fund every trial they would ideally want to initiate. ISTs play a key role for large pharmaceutical companies that want to expand the clinical footprint of their drugs. With ISTs, the pharmaceutical company can tap an external pipeline of idea generators to identify new patient settings or patient subsets distinct from internal programs.
Despite considerable interest by large pharmaceutical companies in ISTs, it is no small feat for an Investigator to get his or her IST supported by a pharmaceutical company. Large pharmaceutical companies receive hundreds of IST requests per year. Given the sheer number of submissions, only a small fraction will ultimately get supported. This supply and demand constraint gives pharmaceutical companies considerable leverage when reviewing IST submissions so they tend to gravitate toward funding submissions from top research institutions and well-known Investigators.
Start-Up Company Perspective
Despite the potential benefit of data generated from ISTs, many start-up biotechnology companies choose not to partner with Investigators. Risk aversion or general lack of experience with ISTs are the primary reasons start-ups often prefer to manage their own studies. For those start-up companies that leverage an IST strategy, the benefits that can be realized are: short timelines to data; a broader pipeline; and external validation by key opinion leaders.
There is also a general assumption that ISTs are slower than CRO-supported trials. Investors often believe that Investigators, particularly academic investigators, do not understand industry timelines. This is ironic, given that CROs would contract with those same Investigators in a Company-Sponsored trial. A 2015 survey by the Association of Clinical Research Professionals (ACRP) found that the average time to IST completion was 2 to 3 years and about 75% of those trials ultimately finish, which is consistent with broader industry averages.12
For capital-constrained start-up companies, ISTs can provide an attractive path to product validation and de-risking (Figure 1). Most start-up companies can afford only one well-designed Phase 2 trial. Due to their lower cost, ISTs enable start-ups to initiate multiple trials to broaden their pipelines and reduce binary risk – something that should be highly attractive to investors. For example, recent Phase 2 clinical collaborations with Memorial Sloan Kettering, Wisconsin Oncology Network, Jefferson Health and Grupo SOLTI have helped our small company, Context Therapeutics, advance our lead candidate Onapristone ER into multiple trials across several different cancer types that we would otherwise not have been able to fund had the trials all been Company Sponsored.
Another often overlooked benefit is the gravitas an Investigator brings to a start-up. The Lead Investigator of a trial allocates 2 to 3 years of their career to the trial, which is a significant commitment that is not lost on their peers or investors. This external validation may lead to additional ISTs, investment, or pharmaceutical partnering interest. Further, the Investigator is the face of the trial, so partnering with a charismatic Investigator who is respected by their peers, invited to give presentations at major conferences, and is known to investors can boost the perception of a drug and positively impact its development trajectory.
Investigator Perspective
ISTs are an essential component of the academic mission of research hospitals and institutions. These studies provide a forum for Investigators to explore new science that may provide therapeutic benefit to patients, which is critical to both the success of the institution and the Investigator. For the institution, ISTs are a semi-exclusive relationship with a pharmaceutical company to provide patients with free access promising drugs. Institutional competition for patients is fierce, so offering patients a multitude of unique clinical trial options is a differentiator that helps with institutional rankings, patient recruitment and retention, and the overall growth and financial health of the institution.
For the Investigator, ISTs provide an opportunity for career advancement. In academic medicine, career advancement is determined by the discovery of novel science, publications, and leadership. In an era of tight budgets and stagnant National Institutes of Health funding, financial support of clinical trials for career advancement can be challenging. Conducting ISTs enables Investigators to tap external funding and resources to ensure that they are publishing. ISTs also provide critical leadership opportunities for Investigators who get to wear multiple hats (scientific, operational, logistic) during the IST that reveal the breadth of their skills. The Investigator is also the presenter of data at major conferences, which provides a venue for the Investigator to introduce themselves to a large and diverse audience of their peers. In success, the Investigator will become forever tied to the drug, which in turn, may help advance or even define their career, much like Drs. Druker, Slamon, and Jordan.
Despite the positive aspects of being an Investigator-Sponsor, it is not for the faint of heart. As previously described, there are numerous issues that could derail an IST. A good Investigator is someone who understands the potential challenges and is prepared to weather the ups and downs of the trial process. To navigate uneasy seas, it is essential that the Investigator has strong communication skills and robust institutional support for the trial, particularly within the Investigator's department. Alignment between the Investigator and their department helps mitigate the risk that competing trials will be initiated and ensure that qualified patients will be referred to the Investigator's trial.
Often overlooked is the fact that Investigators and their Institution assume legal responsibility for the trial. This includes not only the protection of patients, but also protection from improper incentives provided by the company to the Investigator. If the pharmaceutical company is only providing drug supply, they should request the Investigator to provide a Fair Market Value for the trial, including both the direct Investigator costs and the indirect costs to the institution, so that it can be properly accounted. All participating Investigators should also provide CVs and 1572 and financial disclosure submissions to the FDA as part of the study startup process.
LOOKING TO THE FUTURE
Given the capital and intellectual capacity constraints within large pharmaceutical companies and start-ups, ISTs provide an important path to unlocking the therapeutic value of developmental and marketed drugs. By better understanding the risks associated with ISTs and identifying mitigation steps, ISTs have a greater probability of delivering meaningful data in a timely manner that is beneficial to patients, Investigators, and companies alike.
REFERENCES
Tufail A, Patel PJ, et al. Bevacizumab for neovascular age related macular degeneration (ABC trial): Multicentre randomized double masked study. BMJ. 2010;340:c2459.
Kim YH, Tavallaee M, et al. Phase II Investigator-Initiated Study of Brentuximab Vedotin in Mycosis Fungoides and Sézary Syndrome With Variable CD30 Expression Level: A Multi-Institution Collaborative Project. J Clin Oncol. 2015;33:3750-8.
Mitsudomi T, Morita S, Yatabe Y, Negoro S, Okamoto I, Tsurutani J, et al. Gefitinib versus cisplatin plus docetaxel in patients with non-small-cell lung cancer harbouring mutations of the epidermal growth factor receptor (WJTOG3405): an open label, randomised phase 3 trial. Lancet Oncol. 2010;11:121-8.
Druker BJ, Talpaz M, Resta DJ, et al. Efficacy and safety of a specific inhibitor of the BCR-ABL tyrosine kinase in chronic myeloid leukemia. N Engl J Med. 2001;344:1031-7.
Braun J, Brandt J, et al. Long-term efficacy and safety of infliximab in the treatment of ankylosing spondylitis: an open, observational, extension study of a three-month, randomized, placebo-controlled trial. Arthritis Rheum. 2003;48:2224-33.
Gottlieb AB, Evans R, Li S, et al. Infliximab induction therapy for patients with severe plaque-type psoriasis: a randomised double-blind, placebo-controlled trial. J Am Acad Dermatol. 2004;51:534-42.
Neuschwander-Tetri, BA, Loomba T, et al. Farnesoid X nuclear receptor ligand obeticholic acid for non-cirrhotic, non-alcoholic steatohepatitis (FLINT): a multicentre, randomised, placebo-controlled trial. Lancet. 2015;385:956-65.
McCain J. First-in-Class CDK4/6 Inhibitor Palbociclib Could Usher in a New Wave of Combination Therapies for HR+, HER2-Breast Cancer. PT. 2015;40(8):511-520.
Frankel AE, Woo JH, Ahn C, et al. Activity of SL-401, a targeted therapy directed to interleukin-3 receptor, in blastic plasmacytoid dendritic cell neoplasm patients. Blood. 2014;124:385-392.
Jordan VC, Koerner S. Tamoxifen (ICI 46,474) and the human carcinoma 8S oestrogen receptor. Eur J Cancer. 1975;11:205-6.
Slamon DJ, Leyland-Jones B, Shak S, et al. Use of chemotherapy plus a monoclonal antibody against HER2 for metastatic breast cancer that overexpresses HER2. Engl J Med. 2001;344:783-92
Wills AN and Cunningham SN, "Current Practices Within Investigator-Initiated Sponsored Research: 2015 ACRP Survey Results". Clinical Researcher, Aug 1 2016.
To view this issue and all back issues online, please visit www.drug-dev.com.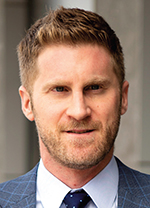 Martin Lehr is the Co-founder and CEO of Context Therapeutics. In addition, Mr. Lehr is a member of the Scientific Advisory Board of Integral Molecular, Board Member of CureDuchenne, and Editorial Advisory Board of Life Science Leader magazine. Previously, he was part of the founding team at Osage University Partners, a venture capital fund focused on academic spin-outs from leading research institutions. At Osage, Mr. Lehr focused on early stage oncology and rare disease opportunities. Prior to Osage, he conducted research at the Sloan Kettering Institute in DNA repair and at the Children's Hospital of Philadelphia in thrombosis and hemostasis. Mr. Lehr is a Director of BioBreak, a biotech executive peer networking group with over 2,500 active members across the US. He earned his MA in Biotechnology from Columbia University and his BA in Economics from the University of Pennsylvania.