CLINICAL TRIALS – 2023 & Beyond: How Technology is Changing the Face of Clinical Trials
INTRODUCTION
The pandemic and ensuing changes to ways of working have exacerbated many challenges across different industries, espe­cially healthcare settings and clinical research. Working through these challenges has also been a catalyst for change in how tech­nology is used in these arenas. As we look ahead, industry lead­ers have a unique opportunity to leverage tech-enabled solutions that will drive advancement in developing new treatments. Across the industry, many stakeholders are not only receptive to the idea but are ready to move their sites and organizations forward in using these tools.
Before anyone can take full advantage of this opportunity, education about the technology and the practical benefits, viewed through the lens of understanding historical lessons learned, will be the critical next step.

THE CURRENT REALITY OF MATCHING CLINICAL TRIALS TO PATIENTS
When it comes to finding new treatments for patients facing life-threatening diseases or other illnesses, clinical trials can be the most powerful tool to offer. Yet, only a small percentage of eligible patients enroll in trials, with less than 5% of adult cancer patients selecting a clinical trial as a care option. While it may seem as though the patients are turning down these opportuni­ties, many potential participants, including 55% of cancer pa­tients, say they are willing to enroll in a trial if it's offered to them. This figure highlights that patients are not turning down offers for enrollment; rather, their clinicians are not armed with the re­sources to proactively match patients to trials and offer this op­portunity. Due to this gap in recruitment for clinical trials, as many as 20% of cancer clinical trials tragically fail to start, and between 18%-40% never meet their accrual goals. At the same time, these situations mean patients are not being offered access to the most cutting-edge and foremost treatments on the horizon. Today, there are resources and solutions to do better by patients, treating healthcare providers, and sponsors developing new therapies.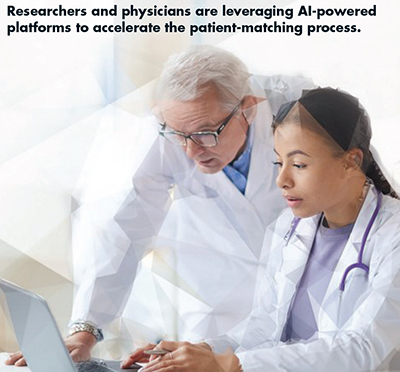 Historically, the processes involved in clinical trial matching are extremely time-consuming and tedious, including screening for eligible patients to recruit by matching their health records to the stringent eligibility requirements of a trial. This work was done manually by staff hired at sites to review patients one by one, cri­terion by criterion. With the current staffing environment, many research sites are struggling to hire, train, and retain people for these roles. Without them, screening at a site slows to a crawl for most trials, harming the opportunity for patients as well as the operations of the site as a whole. Looking beyond resource con­straints, this manual process also misses the opportunity to recruit a more diverse and representative population. For example, there continues to be a vast majority of White participants enrolling in trials at an increased rate compared to other groups, such as Black/African Amer­ican and Hispanic participants – who only make up about 13.6% and 18.9% of total trial enrollment. This representation is im­perative for treatment efficacy and closing the heath gap for those who have not been accounted for in traditional trials.
THE ROLE OF PRECISION MEDICINE IN CHOOSING TREATMENT OPTIONS
This process reflects an outdated model, especially in light of the growing trajectory toward precision medicine. As more treatments emerge that target spe­cific biomarkers, patients have the advan­tage of receiving care that can be more effective and less toxic. Development of these drugs requires increasingly niche tri­als to ensure efficacy and safety, which start with identifying the patient popula­tion. While not every patient will be eligible for any given trial, new medical and tech­nological advancements have opened the door to personalizing patient care, im­proving quality of life, and developing life-saving treatments.
The most critical time to participate in research in a cancer patient's journey is upon referral, not when they have already run out of traditional treatment options. Unfortunately, this has been a misconcep­tion perpetuated by a lack of available in­formation and resources. In a study by Penn State, between 2004 and 2015, only 0.1% of the more than 12 million newly di­agnosed cancer patients were enrolled in clinical trials as their first treatment option.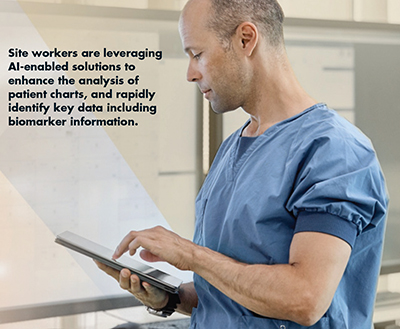 As healthcare and life sciences have advanced, there has been immense growth in precision medicine and next-generation gene sequencing in recent years. Instead of treating all patients with the same sequence of options, it's now possible to determine the genetic informa­tion of the patients' specific disease and match them to molecularly compatible treatments, often still in trial stages. The sooner physicians and researchers are able to identify the genetic makeup of each patient's disease, the higher the probability of slowing or stopping its growth. Additionally, using targeted ther­apy prevents the toxicity and growth of re­sistance that can render treatments dangerous to patients.
To help power the discovery of these biomarker-driven therapies, the matura­tion of artificial intelligence (AI) technology is revealing a new realm of possibilities that will make implementation and collab­oration for the next generation of clinical trials a reality.

HOW TECHNOLOGY WILL HELP OVERCOME BARRIERS
When it comes to enabling clinical trial matching, the most helpful resource available is AI-powered platforms. Patented technology exists today that al­lows researchers and physicians to easily navigate patient data and optimize their resources by both finding the precise pool of candidates that meet the requirements for their trials and by choosing the right tri­als to open for the patient population they treat.
The research team searching for pa­tients for their trial portfolio, as previously noted, had been manually reviewing every patient's records to identify those who could be eligible to participate in a trial. Given the rise of precision trials, they are increasingly looking for the biomarkers that drive treatment options. What if, in­stead of reviewing chart after chart, they received a summary of patients with that biomarker from a tech platform that used AI to match those patients to those criteria? This team can now focus the hours they were spending on screening, instead, on patient care, study coordination, or data collection. With the numerous duties as­signed to most research staff, this effi­ciency saves the site time and resources and ensures they don't miss any potential patients.

These technology solutions also allow for better trial and site selection, which can make patient matching easier and more efficient to the benefit of the entire trial life­cycle. By identifying the potential patient population at a site using AI, instead of the traditional methods of "best guess" and historical enrollment in past trials, sites can make a compelling case to sponsors for their inclusion in a trial. Sponsors can en­sure their sites will successfully enroll, avoiding the waste of finding replace­ments for underperforming sites and even the failure of entire trials. By facilitating these strong-enrolling sites, which is in­creasingly difficult for rare populations, the relationship between sites and sponsors can be one of trust and partnership, which will build more opportunities for patients across all sites.
AI-enabled patient matching also al­lows further nuance in several areas of clinical research. These tools can facilitate trials to overcome the barriers of implicit bias, bringing greater potential to enroll­ment of diverse patients. Creating objec­tive queries will allow the data to speak for itself, without a lens of prejudice or pre­sumption that can serve as an unconscious barrier for investigators to enrolling willing participants. With the FDA's new require­ments for trials to identify and target racial/ethnic and other minority groups for enrollment, this opportunity will serve all players in the arena, especially historically overlooked patients. Beyond patient iden­tification, AI has been applied to health records to pull clinical trial data directly out of site records and into data capture systems. While this technique is still emerg­ing and has much to grapple with before becoming standard practice, the potential efficiencies for sites and sponsors is enor­mous. However, many challenges remain to the application of AI on clinical research. Data variability is significant and will drive the development of new AI breakthroughs, which will then present new opportunities in an ever-evolving dynamic.

While implementation of new AI-pow­ered technology will require upfront costs and effort, the long-term payoff will be far more valuable than continuing to use tra­ditional tools and methods. Physicians can offer their patients state-of-the-art treat­ments as their first line of defense; researchers can make ground-breaking discoveries that are representative of a diverse patient population; and clinics, both academic- and community-based, will be able to improve both their bottom line and sponsor relationships by success­fully recruiting and retaining clinical trial participants.
MOVING HEALTHCARE FORWARD BY ACCELERATING THE PATIENT ENROLLMENT JOURNEY
We are on the cusp of a complete reimagining of how cancer research is done, all with the goal of giving patients hope for a better future even after a cancer diagnosis. Best of all, advanced technol­ogy is readily available today and has been deployed with success in driving effi­ciencies that can be implemented on a broad scale. The next step to moving healthcare forward is to provide the edu­cation and support needed to assist healthcare organizations to make the tran­sition as seamless as possible and ensure they can tap into all the capabilities intu­itive and intelligent technology can offer.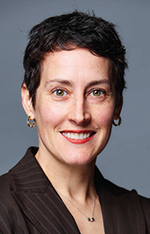 Betsy Wagner is a seasoned clinical research professional with 15+ years of progressive site, CRO, and vendor experience. She has a deep background in clinical trial operations and patient recruitment, using traditional and tech-enabled solutions. She has overseen departmental growth in both academic and community research settings, providing a variety of experiences to inform how sites can excel in order to facilitate more patients having access to more trials.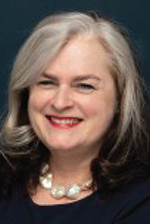 Marie E. Lamont is the Global Head of Real Word Evidence Data Strategy, Access, and Enablement at IQVIA and the General Manager at Inteliquet, a patient-matching clinical trial software company. She is the former President of the Patient Services Business at Dohmen Life Science Services (DLSS), which was sold and is now part of EVERSANA. Prior to DLSS, she was Global Head of Business Strategy and Commercial Operations for Rare disease at Sanofi Genzyme. She had stewardship for the $2.9 billion business. She can be reached at marie.lamont@iqvia.com.