CHECKPOINT INHIBITORS – Novel Targets & Global Markets
INTRODUCTION
Immune checkpoint inhibitors are creating a stir among oncologists. Checkpoint inhibitors enhance the immune response to detect and target cancer cells, with a lower incidence of side effects compared with conventional chemotherapy. In addition, checkpoint inhibitors provide durable responses that last for many years. According to an analysis by BCC Research, the global market for checkpoint inhibitors is currently worth $14.9 billion. It is forecast to expand at a compound annual growth rate (CAGR) of 14.4% to reach $29.3 billion in 2023.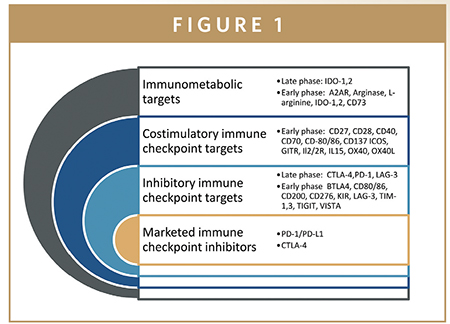 Seven checkpoint inhibitors have received approval from the US FDA for treatment of cancer, including three programmed cell death 1 (PD-1) inhibitors (pembrolizumab, nivolumab, and cemiplimab), three programmed death ligand 1 (PD-L1) inhibitors (atezolizumab, avelumab, and durvalumab), and one cytotoxic T lymphocyte–associated antigen-4 (CTLA-4) inhibitor (ipilimumab). In the past 5 years, pharma companies have invested more than $3.3 billion in acquisitions, equity offerings, and venture capital. A further $1.3 billion has been spent to establish strategic partnerships for the development of checkpoint inhibitors. Therapies targeting PD-1/PD-L1 and CTLA-4 have shown remarkable success in many cancers; however, not all patients benefit from them.

This has sparked an immense effort to target other immune checkpoint receptors. Upward of 230 clinical trials are underway to evaluate checkpoint inhibitors either as monotherapy or in combination with chemotherapy or targeted therapies. Several novel agents are in early stage clinical development. These agents utilize an array of delivery technologies (e.g., small molecules, monoclonal antibodies, bispecific antibodies, and fusion proteins) to target checkpoint proteins.
POTENTIAL TARGETS FOR CHECKPOINT INHIBITION IN CLINICAL EVALUATION
Novel pathways that are being targeted include the T cell immunoglobulin and mucin domain 3 (TIM-3) and lymphocyte-activation gene 3 (LAG-3) protein inhibitors, CD47/signal regulatory protein α (SIRPα), and immunometabolic enzymes indoleamine 2,3-dioxygenase-1 (IDO-1).The following sections examine each of these targets, as well as PD-1/PD-L1 and CTLA-4.
PD-1/PD-L1
The PD-1/PD-L1 segment is maturing rapidly. Throughout the past decade, there has been mounting evidence that PD-1 and PD-L1 blockade suppresses tumor growth via the modulation of immune cell–tumor cell interaction. Developers continue to evaluate anti–PD-1/PD-L1 agents in a variety of cancers and settings in their quest to expand clinical utility and improve returns on investment.

Many PD-1/PD-L1–targeted agents are in clinical develop ment as monotherapies or in combination with novel checkpoint inhibitors, such as A2AR antagonists, anti–IDO-1, STING, and TLR 7 & 9 agonists. Preclinical research is underway in the development of bispecific antibodies and fusion proteins that target more than one checkpoint pathway. In addition to the six PD-1/PD-L1 inhibitors that are on the market, eight are in clinical trials, and four are in preclinical development.
By 2023 at a 5-year CAGR of 12.8%, BCC Research forecasts that marketed PD-1/PD-L1 products will generate sales of $24.6 billion. As new combinations and dosing regimens are approved, these products will become more widely available and reimbursed across the globe. The prescription of PD-1/PD-L1 agents is likely to increase as healthcare professionals become more familiar with their safety profile and new formulations ease their use. Meanwhile, among next-generation PD-1/PD-L1 agents in clinical development, several could reach the market by 2023 to generate an additional $580 million in sales.

CTLA-4
CTLA-4 is the receptor of an immune checkpoint pathway that plays a crucial role in the regulation of T-cell activation and preservation of self-tolerance. CTLA-4 is frequently overexpressed in a variety of malignancies. Ipilimumab is the only anti-CTLA-4 agent approved by the US FDA (in March 2011, for treatment of metastatic melanoma). It has since been approved for additional indications. Ipilimumab is being evaluated in numerous trials either as a monotherapy or in combination with anti-PD-1 therapies in first-line and adjuvant settings, and with other agents in advanced carcinomas.
When ipilimumab was launched in 2011, it represented a unique approach to immune checkpoint inhibition in cancer. Its use expanded when PD-1/PD-L1 inhibitors arrived on the scene, offering new combination regimens. Since that time, the safety profile of ipilimumab has been under increasing scrutiny and has limited its potential in the adjuvant setting. Bristol-Myers Squibb is developing low-dose ipilimumab, which may reduce the risk of unwanted side effects and help revitalize sales. In addition, Bristol-Myers Squibb continues to explore ways to expand the utility of ipilimumab in a variety of duplet and triplet combinations, which could help drive future sales.
Several other companies are evaluating new anti-CTLA-4 agents, six of which are in clinical development. If successful, these products will face tough competition. Next-generation products must be differentiated in terms of efficacy, safety (e.g., antigenicity), durability of response, price, ease of administration, and/or market access. BCC Research forecasts that sales of anti-CTLA-4 agents will gradually increase to nearly $2.8 billion in 2023. The clinical utility of ipilimumab will expand in combination therapies, and new anti-CTLA-4 agents will enter the market.
IDO-1
IDO-1 inhibitors, which target tryptophan metabolism, have generated a lot of interest among pharma companies and investors. Anti-IDO-1 agents offer the potential to add to existing therapies to overcome drug resistance and improve objective response rates in patients with cancer, particularly those who are refractory to checkpoint inhibitor blockade. Preliminary data suggest that IDO-1 inhibition may provide an important therapeutic opportunity to inhibit tumor metabolism and reverse evasion of the immune system.
There are nine IDO-1 inhibitors in clinical development, as well as a handful of preclinical programs. Clinical data for epacadostat showed that IDO-1 inhibitors are safe, but clinical efficacy remains questionable. Several trials of epacadostat in combination with PD-1 inhibitors have been halted. In May 2018, Roche and Pfizer returned development rights of an IDO-1 candidate back to the originators due to lack of efficacy.
Given recent clinical data, BCC Research remains cautious that anti-IDO-1 agents will enter the market. If they do, they are only likely to carve out a role in niche patient populations. Given those caveats, the global market for anti-IDO-1 therapies is forecast to reach $0.9 billion by 2023. This projection is based on the assumption that companies continue to pursue the development of anti-IDO-1 combinations and target areas of high unmet clinical needs.
LAG-3
Following the success of PD-1/PD-L1 inhibitors in cancer, developers are targeting other negative checkpoint inhibitors, including LAG-3 (CD223). LAG-3 upregulation is required to control overt activation and prevent the onset of autoimmunity. Several pharma companies have already entered this field. Innovative biotech firms have interesting products in early stage development, which may attract further pharma interest in this field. Blockade of LAG-3 using anti-LAG-3 monoclonal antibodies or anti-LAG-3/Ig fusion proteins is being evaluated in a number of clinical trials in patients with cancer.
Bristol-Myers Squibb, Novartis, Immutep, Boehringer Ingelheim, Merck KGaA, Shire, TESARO, and Xencor all have agents in early clinical development. Preclinical programs are underway at Incyte, Merck & Co., and Crescendo Biologics. Based on findings in preclinical animal models, anti-LAG-3 agents may have synergistic effects with PD-1/PD-L1 therapies. Crescendo Biologics and Xencor are developing bispecific antibodies that combine targeting of PD-1/LAG-3 or LAG-3/CTLA-4, respectively.
Anti-LAG-3 agents seem to have a relatively benign side effect profile and do not induce autoimmunity in preclinical models. However, LAG-3 blockade or LAG-3 deficiency accelerates diabetes in predisposed non-obese diabetic mice, which is a side effect worth watching. It will be interesting to see how this segment of the checkpoint inhibitor market unfolds over the coming years, as trials mature and more data become available. BCC Research is cautiously optimistic that anti-LAG-3 agents will reach the market and anticipates that at least three products could reach the market by 2023, generating sales of $0.2 billion.
TIM-1, TIM-3
Anti-TIM therapies represent an exciting new class of immunotherapeutic that will complement existing treatments. Drugs blocking TIM-1 or TIM-3 are being investigated as monotherapy or in combination with anti-PD-1/PD-L1 agents. Accumulating preclinical data strongly support the use of anti-TIM-3 therapies (either alone or in combination with other checkpoint-based therapies) to overcome drug resistance and achieve objective response rates in a higher frequency of patients. In preclinical models, TIM-3 blockade alone exhibits similar efficacy to PD-1 pathway blockade. However, the combination of TIM-3 blockade with PD-1 pathway blockade is remarkably more effective in these models.
Curis/Aurigene and Symphogen/Shire have preclinical programs focused on development of dualand triple-acting agents that target multiple checkpoint inhibitors. Symphogen is exploring the potential of bispecific antibodies that combine PD-1/PD-L1 with TIM-3 activity in a single molecule. Curis/Aurigene are developing an orally bioavailable, small-molecule TIM-3 antagonist that may have improved safety and flexibility in scheduling versus a monoclonal antibody approach. Several companies are evaluating anti-TIM-3 agents in the clinic, including Eli Lilly, Novartis, and TESARO.
BCC Research forecasts that the global market for anti-TIM-3 therapies will reach $0.54 billion by 2023. This assumes that anti-TIM-3 agents will largely be used in combination with anti-PD-1/PD-L1 agents. It is anticipated that Novartis and Celldex will launch products for patients who are refractory to current treatments for solid tumors, and in the case of Novartis, also hematological malignancies. Novartis' candidate will probably be the first anti-TIM-3 agent to reach the market. Celldex' product targets TIM-1 and may have a unique profile compared with other anti-TIM agents in development. This could enable Celldex to carve out a niche in advanced renal cell carcinoma and ovarian cancer, areas that have high unmet medical need.
CD47/SIRP
Anti-CD47/SIRPα therapies, which prevent cancer cells from evading phagocytosis, are a unique approach to immune checkpoint inhibition in cancer. CD47 is a ubiquitously expressed membrane protein that binds with the SIRPα receptor on macrophages to inhibit cell phagocytosis. Cells that do not express CD47 are considered foreign, prompting attack by macrophages. Phagocytose cells displaying abnormal CD47 signals, including cancer cells, can evade immune recognition and removal.
Accumulating preclinical data strongly support the use of CD47 antagonists/anti-SIRPα targeted therapies, either alone or in combination with other antibodies or checkpoint-based therapies. Combination therapies may have synergistic effects, with acceptable side effect profiles and better objective response rates than checkpoint inhibitors alone. Forty Seven and Boehringer Ingelheim/OSE Immunotherapeutics have preclinical programs targeting the SIRPα and CD47 pathways, respectively.
ALX Oncology and Trillium are evaluating SIRPα domain fusion proteins in Phase I trials. Forty Seven (Phase I/II), Celgene (Phase I), and Surface Oncology (Phase I) have programs targeting CD47. Preliminary data look promising. As a monotherapy, prevention of metastasis development and dramatic changes in both solid tumor/lymphoma microenvironments have been observed. This effect seems to be enhanced in the presence of anti–PD-1 agents. On the basis of positive clinical data, additional companies may enter this area of development.
Anti-CD47/SIRPα therapies could reach the market by 2023 following fast-track approvals in solid and hematological malignancies that are refractory to current therapies. BCC Research forecasts that the global market for anti-CD47/SIRPα therapies will reach $0.02 billion by 2023. This projection is based on the assumption that these agents will be fast tracked in some cancers and will be used both as monotherapy and in combination with existing therapies, such as anti-PD-1/PD-L1 agents and other targeted monoclonal antibodies.
INNOVATIVE STRATEGIES FUEL MARKET FOR CHECKPOINT INHIBITORS
Manufacturers of immune checkpoint inhibitors continually push scientific boundaries to rationally design drugs and combinations that will more effectively treat patients. These include checkpoint blockers with epigenetic modulators, checkpoint blockers with costimulatory monoclonal antibodies, checkpoint blockers with cancer vaccines, and checkpoint blockers with chemotherapy and radiation. As manufacturers expand the clinical utility of these agents and healthcare professionals become more familiar with their efficacy and safety profiles, the market will continue to expand. Indeed, checkpoint inhibitors will become the cornerstone of many cancer treatment regimens.
Not all patients benefit from PD-1/PDL1 and CTLA-4 inhibitors, which represent the FDA-approved therapies. This has catalyzed enormous interest in the development of stimulatory and inhibitory immune checkpoint therapies. Given the heterogeneity of cancer, many approved therapies are only effective in subpopulations. Therefore, the ability to identify patients who are most likely to respond to therapy or become refractory to treatment remains a key unmet need in oncology.
Throughout the next 5 years, marketed checkpoint inhibitors will gain regulatory approval in new indications and territories. In addition, novel classes of checkpoint inhibitors will enter the market. Companies will identify clinically effective combinations and validate biomarkers/signatures to help identify patients who are most likely to benefit from treatment. Precision medicine will be a major driver for pharma to effectively deliver these innovative medicines and ensure that they are available at sustainable prices to all of those in need.
This article is based on a market analysis report published by BCC Research titled Checkpoint Inhibitors: Global Markets (PHM185A) by Cheryl Lee Barton.
To view this issue and all back issues online, please visit www.drug-dev.com.
Laurie L. Sullivan, ELS, is a Boston-based writer and editor with 20 years of experience in medical communications. She is certified by the Board of Editors in the Life Sciences. She contributes regularly to the BCC Research content on Life Sciences.
Dr. Cheryl Lee Barton is an independent consultant with over 18 years of research and business analysis experience. Following her senior research positions in academia and 7 years with Merck, in which she was responsible for a variety of CNS research projects, she joined Dutch investment bank ABN Amro NV as a Senior Equity Analyst to provide coverage on pan-European companies, and assessed the potential impact of new drug development on European Stocks. In 2002, she founded PharmaVision to provide independent, tailor-made, life science, and consumer health research to pharmaceutical companies, competitive intelligence specialists, investment institutions, and healthcare communication agencies.