CELL & GENE THERAPY – End-to-End Cell & Gene Therapy – From Development to Commercialization – Buy or Build?
INTRODUCTION
The exponential growth of the cell and gene therapy (CGT) market has been driven by the convergence of several economic and scientific developments. The rapid growth in computing power combined with the use of artificial intelligence has resulted in a greater understanding of the human genome and its role in the origin of disease. Scientists have now identified more than 6,000 life-threatening diseases that are the result of a single ge­netic defect.
The convergence of these technologies and computing power amplifies the transformative promise cell and gene thera­pies can offer to millions of patients. If manufacturing obstacles and capacity constraints can be resolved, the growth potential for these innovative and life-saving treatments can be achieved. The industry desperately requires development and manufacturing capacity to meet the growing demand.

In addition to the advances in innovation, other factors are driving the demand for manufacturing capacity, including both the macroeconomic and geopolitical environment. Venture cap­ital, IPOs, and M&A volume in the life sciences are at all-time highs. Supply chain constraints experienced before and during the pandemic have led to the on-shoring of manufacturing sup­ply. The pandemic has resulted in vaccine development that has led to extreme demand for manufacturing capacity.
The lack of process development and manufacturing capa­bilities within many of the companies developing these therapies represents another major challenge. Accelerated timelines put pressure on academic institutions, biotech start-ups, and pharma companies to decide early in the clinical process the best path forward to manufacture, and ultimately commercialize, their CGT product candidates. This decision is often referred to as the choice to "buy" – partnering with a Contract Development and Manufacturing Organization (CDMO) or to "build" – building the de­velopment and manufacturing capacity in-house. The latter can present significant financial and resource burdens.

CELL & GENE THERAPY DEVELOPMENT – OPPORTUNITIES/BARRIERS
The CGT industry is growing exponentially. According to the Alliance for Regenerative Medicines (ARM), there are currently 1,078 regenerative medicine and advanced therapy clinical trials ongoing worldwide as of the middle of 2020. At the same time, the US FDA expects to receive 200 investigational new drug ap­plications in 2020 alone. It has been estimated that by 2025, the FDA will be approving 10 to 20 CGT products per year. Further, the agency's eventual goal is to add approximately 50 clinical reviewers charged with overseeing the clinical investigation, de­velopment, and review process for these therapies.1
Due to the expected increased clinical success of gene ther­apies, robust pipelines, and the growing list of potential diseases CGTs can target, the gene therapy segment is expected to reach revenues of more than $11 billion by 2025. In oncology alone, the CGT market is expected to reach $9.5 billion by 2025. The market is expected to grow at a compounded annual growth rate of more than 24% between 2019 and 2024.2 According to PhRMA, there are 362 CGT drug candidates in clinical develop­ment in the US in 2020, an increase of more than 25% since 2019.3
As more innovators identify novel CGT targets, the demand for CGT development and manufacturing capacity grows. This increasing demand has created a backlog that has delayed new therapies from reaching patients in need.
Compounding the capacity con­straints, manufacturing of CGT products is complex. Processes and materials needs could differ from one product candidate to another, creating a challenge in setting production standards. An overall lack of options, whether internally at an innovator company or with an outsourced CDMO provider, represents the largest barrier to entry. There are multiple levers to reduce these barriers, such as adopting a plat­form process and/or partnering with a CDMO early in product development to ensure an industrialized and GMP-minded approach is taken early in development.

DETERMINING A PROCESS PLATFORM & MAKING CAPITAL INVESTMENTS
Most CGT programs are being devel­oped in an academic or small-scale manufacturing environment and lack standardized, easily scaled process platforms for commercial supply. As the process is scaled and more batches are produced, complexities or gaps are iden­tified and expensive, time-consuming re­work is often required. This can set back clinic dates and delay patient trials.
These risks can be mitigated by part­nering with CDMOs with regulatory and commercial experience early, and adopt­ing a robust, repeatable platform process or technology that supports safe, GMP manufacture and provides for seamless scale up and scale out.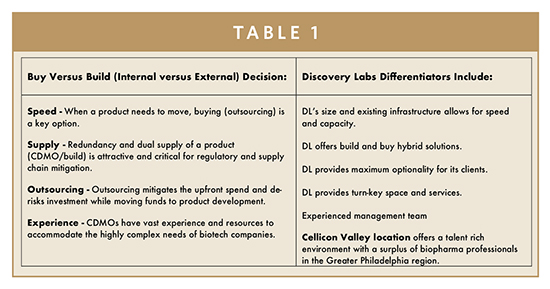 PROCESS DEVELOPMENT & TECHNOLOGY TRANSFER
Conducting tech transfer from an R&D lab into a GMP environment is ex­tremely challenging for early stage CGT companies. CGT development and lack of standardization makes tech transfer com­plex, challenging, and time-consuming. Adhering to a scalable and commercially viable platform process early in the prod­uct's life cycle ensures that tech transfer is seamless during the later stages of devel­opment when larger batches and more patient doses are needed.
This requires an early stage, in-depth program assessment, and a strong plan for establishing critical attributes to moni­tor during the development process. Ensuring the PD team working on the scale up has a strong understanding of GMP manufacturing and regulatory guidelines.
Development programs must balance pro­gressing to meet clinical timelines while maintaining a risk register with appropri­ate countermeasures as scale-up and scale-out challenges are determined.
CAPACITY & SUPPLY CHAIN
Another important piece of the CGT development and manufacturing puzzle is capacity. Part of the capacity gap is the profound lack of suitable space. But not just any space – the right kind of space. CGT innovators need rapid access to lab and GMP space specifically designed to provide process development, plasmid and viral vector production, analytical test­ing, and cell banking. The ideal capacity solution should also offer the ability for on-site expansion.
Fundamentally linked to the capacity gap is the increasing supply chain barrier. Confounded by the COVID-19 global pandemic, CGT developers must contend with these barriers or partner with CDMOs with advanced supply chain expertise. The Center for Breakthrough Medicines (CBM), a CDMO focused on CGT development and commercialization, mitigates the di­verse and fragmented elements of the sup­ply chain through strategic partnerships with vendors and sophisticated enterprise resource planning (ERP) software and au­tomation technology to properly "demand plan" for the needed raw materials and consumables, including bioreactor bags, serum, buffers, and media.
To avoid production delays, the CBM offers a single-source, end-to-end solution that eliminates these supply chain chal­lenges. Under one roof, CBM offers production for plasmids, viral vector, cell therapies as well as a fully loaded analyt­ics lab for raw materials and in-process and release testing. CBM also maintains the ability to prepare in-house buffers as well as component preparation and steril­ization to simplify the supply chain. These holistic considerations reduce tech transfer, execution, and release time significantly for programs.
BUY OR BUILD?
In the face of these barriers, compa­nies embarking on CGT development must make timely decisions. Do they build or do they buy?
Most CGT innovators lack the expert­ise necessary to build capacity in-house. And most of these organizations must manage their limited capital efficiently. For some of these CGT start-ups, the build pathway is too expensive and too risky. Consequently, many CGT companies seek partners with a robust infrastructure and the process expertise.
Ideal CDMO partners should be able to deliver a full complement of end-to-end services. Best-in-class CGT CDMOs can provide discovery support, process and analytical development, plasmid DNA manufacturing, viral vector manufacturing, cell processing, testing, and specialized clinical services all under one roof. CBM fills the capacity gap by bringing signifi­cant experience, technology, and GMP space to this complex marketplace.
Best-in-class CGT CDMOs should also offer value-added services, including supply chain expertise and cold chain stor­age solutions. Strong existing supply chain relationships provide rapid access to equipment, raw materials, and dispos­ables. Close partnerships with suppliers and robust processes ensure delivery of materials that have long lead times. CBM's size allows the supply chain and ecosystem to coexist on one site.
CDMOs also offer partners hybrid so­lutions, especially in the manufacturing and commercialization stage. Some inno­vators are avoiding choosing one path over another and taking a dual-track ap­proach to manufacturing by using both their own facilities and those of a CDMO to ensure they have the needed capacity and a redundant supply chain. However, CGT innovators must consider the on­boarding and training of scientists, oper­ators, and support personnel needed to run the facility once at full scale with re­peatable right-first-time execution; utilizing a CDMO avoids this risk.
With the hybrid model, a client can easily reserve manufacturing capacity in anticipation of commercialization poten­tially saving precious time in making these life-saving therapies available to patients who need them the most.
COVID WILDCARD
Companies in the cell and gene therapy market must be aware of significant headwinds caused by the global COVID-19 pandemic. COVID-19 has caused considerable supply chain dis­ruptions. In particular, the reduced availability of active pharma­ceutical ingredients and other raw materials is widespread.
In addition, significant manufacturing capacity, especially final fill and finish, have been reserved globally for when a vac­cine is developed. The Coalition for Epidemic Preparedness In­novation (CEPI) has identified manufacturers with capacity to produce 4 billion doses a year. With nine vaccines in develop­ment, CEPI plans to have two or three manufacturing plants for each vaccine.4
GROWTH POTENTIAL
As Moore's Law continues to contribute to the expanding pipeline of cell and gene therapies, the potential for growth in this market seems to be endless. And, as these therapies develop, we are witnessing more global regulatory authorities fast-tracking approvals for these revolutionary new treatments. The growing evidence that monogenic defects can be corrected for previously uncurable rare and orphan diseases is unimaginable.
For patients and society to tap the benefits of cell and gene therapies, the life science industry must bring technology solutions to the table while at the same time securing the capacity to de­velop and manufacture these groundbreaking cures. Developing advanced biologics, engineered cells, and viral vectors is vital in moving toward effective, personalized, restorative, and regener­ative medicines. In addition to complex manufacturing, a frag­mented and constrained supply chain must be managed. Meanwhile, the need for flexible state-of-the-art processes and production technologies continue to grow.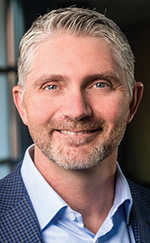 Aldo Romano is VP of Commercial Development at The Discovery Labs and has over 20 years of Bioprocess, Cell, and Gene Therapy experience in capital equipment and disposable process technologies. He was previously Business Development Manager at GE Healthcare Lifesciences, where he was responsible for growing their Enterprise Solutions business. Prior, he served at Advanced Scientific (now part of Thermo-Fisher) as a Healthcare Sales Manager in their OEM medical technology contract manufacturing unit. He began his career at Pall Corporation, where he worked as a Director of Sales focused on the growth and adoption of single-use technologies into the Biotech market. He earned his Bachelor's degree in Biology from Binghamton University.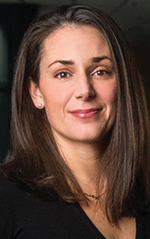 Emily Moran is Senior Director, Viral Vector Manufacturing, at The Discovery Labs. She is an experienced leader in cell and gene therapy and biologics manufacturing – with a focus on commercial readiness, industrialization, and manufacturing stabilization. She has experience in viral vector manufacturing, aseptic processing, upstream and downstream technology, supply chain and demand planning, quality auditing, and facility and organization while employing lean manufacturing standards. Prior to The Discovery Labs, she was the Head of Viral Vector Manufacturing for Lonza in Houston, TX, as well as Sanofi Pasteur. She earned her Bachelor's degree in Biology from Ursinus College and Duke University and her MBA in Project Management from the New York Institute of Technology.