ARTIFICIAL INTELLIGENCE – Attempting to Speed Up Vaccine Development to Combat the Next Pandemic
INTRODUCTION
The Danish company Evaxion Biotech A/S is using state-of-the-art mathematical modelling and algorithms in a bid to transform drug discovery and development. In the wake of the huge impact Covid-19 has had around the world, Evaxion is now applying this approach to vaccine develop­ment to prevent the next pandemic.
Since 2008, Evaxion's scientists and software engineers have developed a platform that uses ar­tificial intelligence (AI) to track the traces left by antigens that evade the immune system. These state-of-the-art in silico tools integrate biological data, AI, and supercomputing, aiming to trans­form and accelerate the way immunotherapies are discovered and developed. This approach under­pins Evaxion's pipeline addressing two of the biggest health threats in the world, infectious dis­eases and cancer.

Evaxion is now leveraging its technology and expertise with a new platform, RAVEN, with the goal of rapidly responding to emerging viral dis­eases. RAVEN has been designed to quickly iden­tify novel vaccine candidates against an emerging or mutating virus, which may be rapidly advanced into clinical development based on Evaxion's unique manufacturing process. Evaxion believes this exciting novel platform holds the potential to limit or prevent the significant human impact and cost of a disease that seemingly comes out of nowhere and spreads around the world.
SPEEDING UP TRADITIONAL DRUG DEVELOPMENT
Predicting the properties of proteins and epitopes that elicit a desired immune response is a complex undertaking. Traditional protein drug devel­opment requires repeated rounds of manual design of molecules, chemical synthesis, and experimental testing. It is expensive, takes a long time, and comes with high failure rates.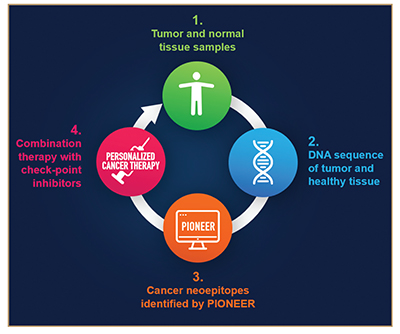 Evaxion's proposed solution to the development of novel immunother­apies and vaccines is based on three platforms, EDEN, PIONEER, and RAVEN, which Evaxion believes are capable of accurately predicting the key properties of proteins and epitopes to enable the rapid develop­ment of novel, personalized immunotherapies and vaccines.
This enables Evaxion's discovery teams to design and syn­thesize optimized proteins and epitopes from the start, which po­tentially significantly reduces the time and cost needed to identify candidates for development and, through the predicted biological functionality and effect of the protein or epitope target, may in­crease the chances of these entering clinical development and eventually reaching the market.
The RAVEN platform combines elements from EDEN and PI­ONEER and has been designed to select the best targets for a vaccine to rapidly respond to an emerging or mutating viral dis­ease. In creating the viral-specific RAVEN platform, Evaxion took the ability of EDEN to identify B-cell antigens and combined it with the algorithms from PIONEER to identify T-cell epitopes to optimize the target antigens. The project is backed by the Danish state's Innovation Fund Denmark with funding of DKK 5 million (USD800,000) to build a response platform to quickly identify the best targets for future viral vaccines that, once identified, can be rapidly produced.
Evaxion already had the relevant algorithms, so the chal­lenge was training the algorithms to be viral specific, addressing the hurdles in developing vaccines by including both T-cells and B-cells. The company is now pursuing proof-of-concept in coro­navirus to be able to respond to future emergent coronaviruses.
The main aim is to have a rapid response platform to be much better prepared to address future pandemics. This will be based on a discovery and manufacturing process that can create potential vaccines in as little as 11 weeks from initial concept to first human dosing, and then developing these quickly through clinical trials, potentially in partnership with a larger vaccine com­pany.
A NEW MANUFACTURING TECHNOLOGY
To extend the potential of RAVEN, Evaxion will be combining it with a new manufacturing technology to tackle the production bottleneck of current manufacturing technologies and enable rapid scale up for commercial production.
This technology, known as μLOT®, is developed by SB3000, a Danish company dedicated to developing green manufacturing solutions for continuous manufacturing in the pharmaceutical industry. The expectation is that the μLOT technology for continuous manufacturing (e.g., in hospitals) of peptides may allow for acceleration of design, development, and supply.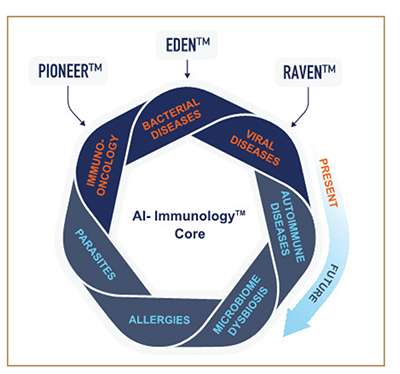 The manufacturing process will be developed at scale during pre-clinical studies and, upon validation, Evaxion ex­pects that this method will be scaled up and moved straight into commercial pro­duction with no further development re­quired, at a fraction of the traditional manufacturing cost.
Because μLOT-enabled facilities are modular and a fraction of the size of tra­ditional batch facilities, they have the po­tential to be easily transported to sites and hospitals around the world. This is becom­ing particularly important as more and more countries see securing internal sup­ply of essential medicines as a key strate­gic element of a nation's security.
IDENTIFYING ANTIGENS IN HOURS
The antibacterial platform, EDEN, is the basis of developing RAVEN. EDEN has been shown to identify novel, bacterial vaccine antigens that trigger protective im­mune responses against a broad range of bacterial sub-strains, and it has done so in as little as a matter of hours. Evaxion be­lieves that EDEN will allow the company to rapidly discover novel vaccines with opti­mized profiles and, potentially, a higher likelihood of success in development.
Taking advantage of the rapid in­crease in big data from modern, high throughput sequencing studies, EDEN uti­lizes proteomes from clinically relevant pathogen strains as input. With specialized AI methods, EDEN targets immune eva­sion strategies of bacteria and outputs a list of proteins ranked by their capability to induce a highly protective immune re­sponse.

As well as being accurate, fast, and low cost, EDEN has the ability to identify novel protective vaccine proteins in an un­biased way. Evaxion believes that EDEN is broadly relevant to multi-drug-resistant pathogens, preserving use of antibiotics. Evaxion has infectious disease pipeline programs that target S. aureus and P. aeruginosa. Evaxion believes that the pro­tective antigens identified by EDEN have the potential to prevent diseases caused by both resistant and non-resistant strains.
Evaxion believes EDEN further en­ables the company to investigate any bac­terial infectious disease using innovative methods. Evaxion believes that within a matter of weeks, new candidates can be generated and tested in animals, signifi­cantly accelerating the speed of vaccine development, as well as reducing the cost and risk associated with discovery and preclinical development.

The threat of bacterial infections is growing exponentially, and by 2050, it is expected that more people will die as re­sult of infection by multi-resistant pathogens as from cancer.1 The potential impact of EDEN may be to directly prevent disease caused by resistant and non-resis­tant strains of the bacteria. This will in turn reduce the use of antibiotics.
BETTER PREDICTIONS
The great advantage of AI in drug de­velopment is that it makes no assumptions about what is right and wrong. This means it can make predictions that scientists would not necessarily make, because they had already excluded something, for ex­ample, about the immune system and how it reacts, which may not be conclusively proven.
The system can be trained to spot connections, such as in structures of pro­teins, which are not possible with standard approaches. Conclusions may come within hours, thereby quickly providing you with something to test. Once AI is inte­grated into drug discovery, you can also feed data back into the system to improve it further.
Evaxion is one of the first companies to start generating clinical data on prod­ucts identified by AI. Evaxion believes that this process has the potential to remove even more risk from the developing pipeline and clinical programs, enabling multiple therapies from each of the com­pany's individual platforms. In the case of Evaxion's adjuvant immunotherapy vac­cine, EVX-02, it took less than 18 months from the initial concept to being ready to test in patients. Evaxion believes that the process can be reproduced, as can the technology.
LIMITING THE FALLOUT
When Evaxion started in 2008, it faced some initial skepticism in the mar­ketplace on the role of AI in drug discov­ery. This changed around 2016, with the first success stories about the role of AI in the development of small molecules.
Evaxion's approach is methodical, rigorous, and committed. Evaxion spent a lot of time building its systems – address­ing the specific biological issue that needed to be solved, then building the first version, testing, feeding in data, and im­proving. The most important part of this process was to be able to successfully combine expertise in AI, immunology, and drug development and taking the time to develop the platform comprehensively.
COVID-19 has provided a significant demonstration of the ability of infectious diseases to fundamentally threaten the world. Evaxion believes the best way of combating infectious diseases is through prophylactic vaccines, not therapies. By enabling the rapid development of vac­cines against future disease threats, Evax­ion hopes to significanty reduce the fallout when the next pandemic hits. u
 REFERENCE
Review on Antimicrobial Resistance, May 19, 2016, https://amr-review.org/
To view this issue and all back issues online, please visit www.drug-dev.com.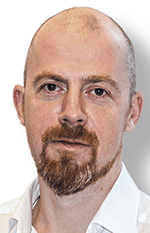 Dr. Lars Wegner is Chief Executive Officer and a founding investor of Evaxion. He began his career as a medical doctor and worked for several years as a clinician. He has extensive experience in the vaccine industry, first at Pfizer and then for 10 years as a member of senior management at the immuno-oncology and vaccine company Bavarian Nordic. He has previously been involved in multiple start-ups and early ventures. For more information on Evaxion Biotech, visit https://www.evaxion-biotech.com/.