ANALYTICAL SERVICES – Applying Innovative Thinking & Techniques to Reduce Time-to-Market
INTRODUCTION
Applying an innovative approach to analytical chemistry can help to drive efficiencies and reduce critical timelines in successfully delivering vital medicines to patients. While contract development and manufacturing organizations (CDMOs) have the capacity to support pharmaceutical companies with their analytical requirements for both small and large-scale projects, the opportunity exists to increase speed to market with innovative thinking. The following explores the importance of innovation during analytical chemistry and discusses how time to market can be reduced during the analytical testing stage. In addition, the value of understanding the drug development and manufacturing process during analytical testing is reviewed.

THE ANALYTICAL SERVICES MARKET
Greater preference from drug developers to redirect their resources in order to focus on core capabilities is creating growth in the outsourced analytical services market. Time pressures and in-house capacity issues have led many organizations to turn to stand-alone service providers and CDMOs that can support them in building a more strategic approach to their analyses and testing processes. At the same time, stricter demands from regulatory agencies for more analytical details on medicines and process development is also driving the need for better and more efficient analytical strategies.
INNOVATIVE APPROACHES TO ANALYTICAL CHEMISTRY
CDMOs strive to continuously identify innovative solutions that can bring increased value to their customers. As more systematic approaches are introduced, the automation of analytical instrumentation is simplifying. As a result, the volume of data being created is increasing while the level of resource required to generate this data is reducing, which has significant benefits for companies given the ever-increasing market demand.
The development of quality products is only possible with a forward-thinking, innovative mindset, along with close monitoring of emerging technological advancements. Increasingly, it is not only about estimating the expected but also about estimating the unexpected. Traditionally, analyses have been used to quantify the active ingredient and the impurities. Innovation has now led to the ability to estimate unexpected additions in formulations, for example, elemental impurities generated due to manufacturing vessels, reactants, etc.

Previously, elemental impurities were estimated using classical analysis, such as heavy metals tests and limits of arsenic. This is now being phased out in favor of more modern analytical techniques, including Raman spectroscopy, inductively coupled plasma mass spectrometry (ICP-MS), optical emission spectroscopy (OES), nuclear magnetic resonance (NMR) spectroscopy, and ultra-performance liquid chromatography (UPLC). Using different detectors, such as a refractive index detector, a fluorescence detector, an evaporative light scattering detector (ELSD), and Quadrupole Dalton (QDa) detectors during method development, allows companies to ensure product safety and efficacy. This helps to provide substantial data for regulatory authorities. Furthermore, orthogonal analytical techniques facilitate a fuller understanding of the product composition, in terms of compliance both Q1 (qualitatively) and Q2 (quantitatively). The use of these techniques is helping to reduce timelines and, in turn, allowing medicines to be delivered to market more quickly.
OPTIMIZING ANALYTICAL TESTING TO REDUCE TIME TO MARKET
Innovations in analytical testing are helping to reduce time to market and regulatory burden, whilst also improving patient safety. In R&D, these advancements are proving valuable in the selection of the most stable and effective forms of drug substances, offering improvements in solubility and enabling identification of most compatible excipients.

Automation and the emergence of new techniques are lessening time for quality control testing, while stability testing has been transformed through the use of simulating chambers for freeze thaw, photostability testing, and chambers for all temperature zones.
The process of selecting packaging materials has also been enhanced with the introduction of extractables and leachables (E&L) testing, as well as the compatibility testing of materials. New technologies are also reducing regulatory burden by meeting the requirements of newer guidelines, including Quality by Design (QbD), elemental impurities, and data integrity requirements.
INNOVATION EXAMPLE – TITRIMETRIC ANALYSIS, THE NEED TO CONSIDER DRUG DEVELOPMENT & MANUFACTURING PROCESSES DURING TESTING
Some CDMOs bring understanding of the complete drug lifecycle, using experience of commercial manufacturing and quality control (QC) testing into the development of robust methods. The broad understanding and experience of how different analytical methods can impact formulation development and timelines within QC is vital to establish new methods accordingly.
Several points should be considered in method selection. Methods should be stability indicating and sensitive enough to detect and quantitate as per current regulations. Methods should be robust enough to be transferred from the scientific environment in a development lab to the highly efficient and LEAN oriented environment in a QC lab. The development of analytical methods for genotoxic impurities also needs to be considered as this will be critically reviewed by regulatory agencies.
Breakability tests as per the guidelines of various countries should be conducted for the tablets having the score-lines. Additionally, alcohol dose-dumping studies need to be considered for extended-release dosage forms, and stability studies should be conducted as recommended by the regulators.
Working with a CDMO that is experienced in QbD-based analytical method development can ensure innovative approaches in developing high-quality, robust, transferrable methods.
METHOD DEVELOPMENT CASE STUDY
This case study demonstrates method life cycle management. A customer's previous contract services provider was conducting three analytical methods with poor resolution and sensitivity. As a result, Recipharm was approached to develop better methods for a fixed dose combination (FDC) product. Using the team's knowledge database and expertise, a single method was developed with the required pre-determined reproducibility and resolution. This brought considerable cost-savings during each stability run. The results are presented in Table 1.
METHOD VALIDATION
Validation documents are a window into regulatory agencies. High-quality documents and the ability to respond to queries quickly will reduce a product's time to market. A strict GMP environment, custom field calculation, and the capability for electronic data back-ups can help ensure error free data. QbD-based method validations provide a better understanding of the critical parameters of the analytical method and help to provide trouble-free methods throughout the product life cycle.
THE VALUE OF OUTSOURCING
CDMOs are leading the way in the development of shorter/fewer methods, which is contributing to considerable reductions in testing times. Their ability to offer both the necessary capacity and scale frees up their customers' QC and analytical laboratories to focus on other activities, while CDMOs can offer the expertise and resources to perform multiple analyses in parallel – something many pharma companies struggle to cope with in-house.
A successful analytical testing strategy is reliant on a thorough understanding of current techniques. Working with a CDMO alleviates much of the burden from pharmaceutical companies and their teams.
This is because a reputable partner will be adept at staying up to date with today's trends, providing a better solution for its customers. They will also have ingrained processes in place for knowledge-sharing during technology transfer as well as throughout the product lifecycle. Staying at the forefront of regulatory updates and pharmacopeial changes is also fundamental to their service offerings and enables them to develop (and validate) methods based on current needs.
Working with a CDMO will provide a dedicated team that will have broad experience acquired across a wealth of varied development projects. Bringing this type of expertise to the table means that CDMOs are ideally positioned to deliver under specific timelines. For example, documents can be turned around in as little as 2 to 3 days, while knowledge and use of the latest techniques can help reduce analytical run time to 2 to 3 minutes. Method development generally takes between 4 to 6 weeks. CDMOs will be able to provide previous examples of their capacity to innovate, as well as the experience to suggest new solutions.
Working with different molecules across many different clients allows a CDMO to apply insight that has been acquired through the development of many formulations. Not only are they able to easily understand when issues arise related to analytical method development, but they are accustomed to identifying root causes. Access to this type of experience and expertise can optimize lifecycle management and ensure products are delivered to market in a specific timeframe.
FINAL THOUGHT
Working with a CDMO that has a dedicated understanding of innovations in analytical science can help at all stages of the product lifecycle. By bringing innovations in analytical chemistry combined with knowledge of product development, a CDMO partner can help overcome complex challenges and improve time to market for novel drug products.
To view this issue and all back issues online, please visit www.drug-dev.com.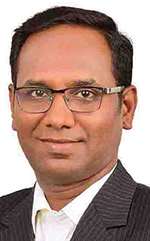 Dr. Ramesh Jagadeesan is Senior Director, Analytical Development, at Recipharm is currently heading the Analytical Excellence Centre at Recipharm, Bangalore, India. He has 20 years of experience in analytical research and development. He has authored numerous research publications in the areas of analytical development, controlled- release technology, and stability studies. He is an expert in stability studies for NCE, ANDA, and commercial and clinical stability. Dr. Jagadeesan earned his PhD in Pharmaceutical Analysis.