Adhesives Research, Inc. : Focused Product Development Process Results in Successful Custom Pressure-Sensitive Adhesive Solutions for TDDS
A new level of commitment is required of adhesives suppliers by Pharmaceutical companies searching for unique pressure-sensitive adhesive systems and coated products for their transdermal drug delivery systems (TDDS). Increasingly, drug companies are turning to specialty, custom adhesive manufacturers to carry out research and development, testing, materials qualification, manufacturing, quality, and other product development tasks.
Drug Delivery Technology interviewed Dr. John Lind, Vice President of R&D and Technical Director of Adhesives Research, Inc, on how adhesives companies must have a focused commitment to sustained research and development resourcing and the sometimes-lengthy product development cycles, which can be gated by customers' long-term clinical studies. He also explains how adhesives suppliers are also charged with ensuring that their manufacturing operates at every stage of development (preclinical to commercial) to the relevant pharmaceutical standards, and must offer cGMP production, quality control, and validation as well as segregation of processes the industries they serve have come to expect.
Q: Adhesives Research (AR) has been a leading supplier of TDDS pressure-sensitive adhesives since 1984. How has the company been able to service this sector with its custom developed PSA technology?
A: AR utilizes a unique, four-stage product innovation process called PIC to manage the successful custom development of pressure-sensitive adhesive and adhesive-coated solutions for the pharmaceutical market. The acronym PIC, which stands for Program Innovation Committee, comes from the company's ability to innovate unique, custom technologies to meet very specific customer product needs. It also refers to the internal executive committee that reviews, approves, and provides the critical resources for all major product development programs.
Q: What are the elements of your company's PIC process?
A: The four stages of PIC include Feasibility Assessment, Opportunity/Technology Develop-ment, Optimization, and Commercialization. The product development process provides a detailed checklist of requirements that are essential for supplying a quality product in a timely manner. The stage gate review, an important and ongoing part of the PIC process, allows each functional area manager involved in the project to ensure that specific needs are being met by the project team carrying out each project. The new product development process starts at the development stage and extends through manufacturing, packaging, and shipping. Each stage incorporates specific and detailed documentation of all product and process developments leading up to a successful product launch. Further, each stage has detailed recordable steps that facilitate the orderly flow of major product/technology design activities. The following explains the stages of our PIC process more clearly:
Stage 1: Feasibility Assessment Stage – during this stage, the customer's specific needs/ application(s) are identified along with project timing and resources (personnel, materials, and equipment) that will be required to carry out the project. Included in this stage is the project charter, (interdepartmental) team resources, milestone projections, and project attractiveness (with financial details/projections).
Stage 2: Opportunity and Technology Development Stage – includes project design strategy, project design input, technology development plan, and process feasibility discussions. This stage also addresses laboratory prototype development, experimental plans, and process parameters.
Stage 3: Optimization Stage – provides for the optimizing of the production process, field trials, and design verification. Equipment Process Qualifications, test methods development, process specifications development, and regulatory requirements are all part of this stage. Launch plans (supported by demand forecasts) including production cycle times and capacity planning are also defined.
Stage 4: Commercialization Stage – the completion of product development includes process and product validation, review of design output versus input, and the successful launch of the product. A post-commercialization review is also part of the PIC process. The entire project is reviewed to confirm that the product and manufacturing processes comply with the customers' needs. It is a check on our entire product development system to ensure continuous improvement – a part of our ISO quality system.
Q: Why do you believe your PIC process has led to successful development of adhesive technologies for drug delivery systems?
A: The adhesive manufacturers that are succeeding in specific markets like TDD are those that have a well planned and executed product development process supported by documentable design control, input, strategy, and output as well as critical validation procedures in place. Those adhesives suppliers have also forged solid partnerships with pharmaceutical companies and help them get their products designed. Customer companies require the adhesives manufacturer to be deeply involved in the product development process, conducting research, testing, and materials qualification, and ultimately, to be able to manufacture to the relevant pharmaceutical cGMPs.
Q: It's evident that AR has a very focused approach to product development. What's at the heart of its success and how does it help your customers ultimately design their products?
A: At the heart of our process is the creation of cross-functional teams to execute the project, our ability to "partner" with our customers and interact with them on a frequent basis, as well as our "toolbox of capabilities" that we offer customers to come up with unique bonding solutions. Let me explain:
Partnering and frequent contact with the customer – at the core of the four-stage process is a working partnership between AR and the customer, which may include the execution of a confidential disclosure agreement. Customers typically share details about specific product performance needs for the final device, which allows our company to understand the ultimate product or device being designed and to make sure that the right adhesives solution is engineered for the customer. Joint (customer-supplier) project plans are being developed, which indicate the type of work to be carried out by both companies, as well as agreed upon major project milestones. Ongoing customer contact facilitates successful product development and timely delivery of the technology. Throughout the process, it is not uncommon to have customer visits to our facility or vice-versa to observe and participate in experimental or developmental run(s) that allow for immediate analysis and feedback.
Cross-functional teams – are created to execute the project from beginning to end, which consist of experienced R&D scientists, process engineers, quality, manufacturing, and sales personnel. This team complements a similar team on the customer's side. In working closely with the customer throughout the entire process, AR provides direct access to its full resources to ensure successful product development. One of the most critical success factors in this process is matching up the needs of the customer with a team of associates who have the skill sets required to collaboratively develop a robust product and process as expediently as possible. Also, purchasing is another important functionality – procuring the raw materials identified and required by customers, dealing with incoming raw materials specifications, lead times, pricing, and finding alternate vendors.
Toolbox of capabilities – to come up with unique bonding solutions, the toolbox of capabilities that AR offers to customers includes polymer synthesis, adhesives formulation, adhesives coating and laminating, release coating, and custom finishing. Our years of problem-solving have enabled us to develop an extensive portfolio of adhesive solutions for pharmaceutical applications.
Emphasis on quality – at AR, Operations and the Quality Departments work hand-in-hand during the product development process to ensure successful product delivery. Project teams use statistical approaches to ensure the establishment of meaningful specifications with customers, suppliers, and for its internal processes. To ensure operations meet the standards of pharmaceutical companies (relevant 21 CFR 210, 211, and 820), adhesive companies must operate under cleanliness standards, perform accurate records-keeping functions (such as process documentation, change control, and batch traceability), with Quality Assurance programs being a prominent part of its standard operating procedures. These cleanliness standards for suitable manufacturing require special heating, ventilation, and air-conditioning facilities, controlled access, and that gowning attire be worn by manufacturing personnel. The PIC process affords us a tool to ensure compliance and design control throughout development. It also allows for a logical evolution from concept through commercialization, resulting in a robust product fully capable of meeting customer/product specifications. Overall, AR's PIC process is consistent with product development in a cGMP environment"¦. it asks the questions that are typically voiced by our customers or FDA auditors.
Q:�Given the lengthy product development cycles associated with drug delivery systems, how is AR able to ensure timely delivery of its technology?
A: Within each of the stages of AR's PIC process is a progression of milestones, approvals, documents review, reports, and check-systems designed to ensure a successful project plan with verifiable results and efficient technology transfer. For example, our product development process requires process engineers and manufacturing associates to become involved in the earliest stages of new product development. This facilitates scale-up of manufacturing processes by leveraging our knowledge of existing products, processes, and technologies while combining our understanding with the customer's requirements and goals. AR's focused commitment to carrying out research and development for new product development ensures the delivery of technology in a timely manner to meet customer's timelines. In the case of developing a unique bonding solution for a pharmaceutical company, our company's product development process will match development cycles from the pre-clinical stage all the way to its partner's regulatory submission for the device. Our PIC process parallels the developmental processes of our pharmaceutical customers. We stress just-in-time development to assure we will never hold up customers' programs, while not being far ahead of them so that we don't miss the most critical current design input criteria. It is critical to understand where the customer is in their development process with regard to clinical studies, etc. so that we can apply precious resources when most appropriate.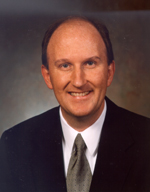 Dr. John Lind
Vice President & Technical Director
"One of the most critical success factors in this process is matching up the needs of the customer with a team of associates who have the skill sets required to collaboratively develop a robust product and process as expediently as possible."