WHITEPAPER: Lonza Engine® & Xcelodose®: Accelerating Preclinical & Clinical Trial Pathways With Target Dosing Technologies
Learn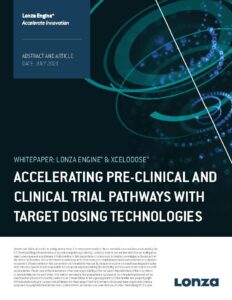 how Lonza helps developers quickly assess new drug candidates while minimizing API consumption through efficient excipient screenings, encapsulation and early-phase clinical development technologies.
Drug developers continue to face numerous pressures advancing active pharmaceutical ingredients (APIs) into commercial drug products. The push to reduce the time, personnel resources and capital expense involved in developing finished drug products is unrelenting. Most of the time, candidate compound selection and synthesis process can be costly in its early stages. It can cause potential constrained API dosing evaluation and slow critical development paths relative to overall program timelines (which are becoming shorter).
To face these challenges, pharma's innovators are increasingly engaging the expertise of clinical development and manufacturing (CDM) partners to accelerate the process of putting drug products into human trials. One solution capable of accelerating speed-to-clinic timelines and reducing costs is to dose standalone API with no excipients into a capsule with microdosing technologies.
Answering the needs of drug developers, the Lonza Engine® equipment portfolio including the Xcelodose® technology, a powder microdosing system, helps developers quickly assess new drug candidates while minimizing API consumption. Our technical and formulation experts can provide further support on excipient screening, encapsulation and early-phase clinical development technologies. (Click here to download PDF of full whitepaper)