WHITE PAPER: Molly Modular Autoinjector Platform by SHL Medical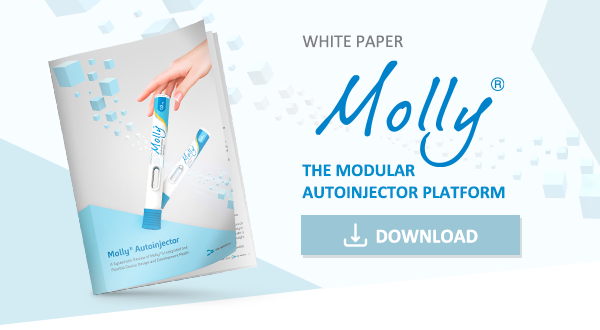 White Paper: A Systematic Review of Molly's Integrated and Flexible Device Design and Development Model
SHL Medical has redefined the conventional platform model by adding modularity to its proven Molly® autoinjector technology. This white paper outlines SHL's predictive response to market imperatives in the medical device industry, resulting in a constantly expanding ecosystem that supports product customization and effective lifecycle management.
The white paper discusses and analyzes:
The Molly design and usability philosophy
Modularized manufacturing infrastructure supporting
the Molly autoinjector development and production
Quality and regulatory systems that support Molly projects
More about Molly

Molly's modular infrastructure offers all the advantages of a platform device while enabling increased flexibility in device design and production to meet Pharma's unique brand and usability requirements.
Reliability

17 combination
product approvals in
33+ countries*

Flexibility

Various design customization opportunities

Compatibility

Available in
1.0 mL and 2.25 mL variations

Scalability

Supported by
SHL's in-house manufacturing
| | |
| --- | --- |
| | © 2021 SHL Medical AG. The SHL Medical logo and wordmark and SHL product wordmarks and logos are registered and/or non-registered trademarks of SHL Medical AG or its Affiliates, in the United States, Europe, and other jurisdictions. *As of September 2021.. |