WEBINAR – Impact of Process Re-design on Sustainability in Pharmaceutical Small Molecule Manufacturing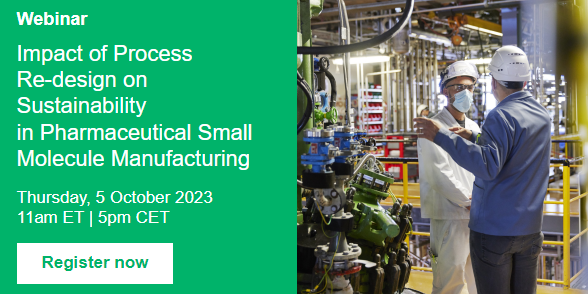 Join us for an upcoming webinar that delves into a crucial issue in the pharmaceutical industry. Recent research has revealed a surprising fact: the pharmaceutical sector has a larger carbon footprint than even the automotive industry, especially when we consider the entire supply chain's impact on emissions compared to waste production and treatment.
Given this pressing concern, our expert discusses the impact of process re-design on sustainability in small molecule manufacturing and how processes can become more resource-efficient.
Take a deep dive into optimizing the manufacturing process of pharmaceutical intermediates.
Learn how substantial improvements in yield are possible through smart reaction engineering.
Discover how these optimizations also lead to a net increase in the quality of the final intermediate product.
Can't attend live? Register to receive the on-demand link to view at your leisure.