Technological Breakthroughs Aiding the Biologics Market
BCC Research reveals in its new report on biologic therapeutic drugs, the biologics or biopharmaceutical therapeutic market holds important implications for the future of medicine and industry advancement. This market totaled $234 billion in 2014 and is expected to grow to $386.7 billion in 2019 at a (compound annual growth rate) CAGR of 10.6%.
Recent technological breakthroughs involving novel targets, modifying agents and production systems are creating new avenues for market growth. Low cost vaccines will continue to increase in developing and underdeveloped countries, which is where many of the infectious diseases like flu and Ebola are still major health problems.
​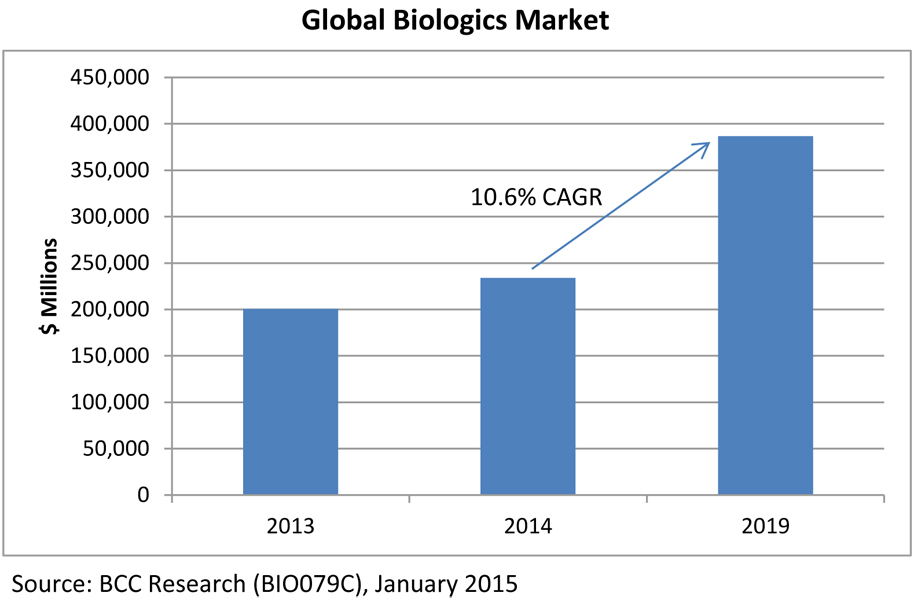 "The focus of the pharmaceutical industry has changed significantly in the past 60 years. Historically, research and products have been focused on small-molecule drugs," says BCC Research analyst Jackson Highsmith. However, advances in biochemistry, immunology and biotechnology have broadened our understanding about the mechanisms that overate within the body and what happens when these mechanisms go out of control."
Biopharmaceuticals have experienced a shift in interest from both patient care and drug development/manufacturers. Due to the dearth of new small-molecule drugs that are effective and safe products, more pharmaceutical companies are looking to large molecule drugs to bolster their pipelines.
Biologic Therapeutic Drugs: Technologies and Global Markets provides a comprehensive analysis of biologics on a global basis. It aims to provide a detailed product analyses within disease subsegments to overall industry trends, in order to quantify and qualify the market for therapeutic drug products in the biologics segment.
BCC Research publishes market research reports that make organizations worldwide more profitable with intelligence that drives smart business decisions. These reports cover today's major industrial and technology sectors, including emerging markets. For more than 40 years we've helped customers identify new market opportunities with accurate and reliable data and insight, including market sizing, forecasting, industry overviews, and identification of significant trends and key market participants. We partner with analysts who are experts in specific areas of industry and technology, providing unbiased measurements and assessments of global markets. Recently selected as the world's greatest market research company, BCC Research is a unit of Eli Global, LLC. Visit our website at www.bccresearch.com. Contact us: (+1) 781-489-7301 (U.S. Eastern time), or email information@bccresearch.com.