Streamlining Drug Development Processes Through the Accenture INTIENT Clinical Platform
By: Mike Stapleton, Managing Director in Accenture's Life Sciences Practice
New Science, which is an ever-evolving combination of scientific advancements and health technology, is filling unmet patient needs and quickly raising the standard of care.
Market conditions are requiring this evolution. Consider that there has been a 51% decline in the amount of time a treatment retained a leadership position in the market from 2000-2017. And a 61% decline in the three-year average pipeline replenishment ratio from 2012-2018.
Given this backdrop, it's not surprising that the biopharmaceutical industry is making a fundamental shift from a product focus to a patient and health system outcome focus. Digital solutions are injecting process improvement and additional value across businesses from research and development to commercial and medical affairs. Indeed, recent research has indicated that leaders in New Science, when compared to their peers, have made six to seven times more investment in digital, data and genomics technologies.
When we've interviewed these same pharmaceutical and biotechnology leaders they've told us that the ability to access and use data from across functional areas – and apply advanced analytics and/or artificial intelligence to that data – was important or very important to achieving their company's business strategy.  Additionally, they indicated that improving their ability to connect, share and analyze data from across the organization is critical to their company's success.
What companies need is a lot of New… data, value measures, therapeutic solutions, business strategies, collaborations and technologies!
To facilitate the demand for this new world order, we've unveiled the Accenture INTIENT Clinical platform. It helps companies run faster clinical trials with better transparency and access to trial information so they can make smarter strategic decisions. Built for the industry in collaboration with the Life Sciences Cloud Coalition, our platform is comprised of global industry leaders working together to transform R&D and deliver better patient outcomes.
For example, Accenture is collaborating with Bayer to implement the platform to help simplify and speed its drug development processes. The platform, which went live at Bayer earlier this year, brings internal and external clinical data together with Oracle cloud-based technologies into a single data management and warehousing platform, creating actionable insights to accelerate drug development and improve patient outcomes.
We are obviously excited to work with Bayer to provide new insights on their clinical trials, so they can bring the important treatments they develop to patients faster and with the highest quality. After all, the future of R&D is bright when leading organizations come together to solve for patients' greatest needs.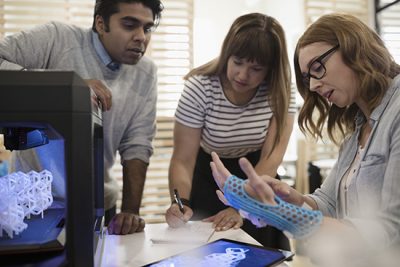 The Accenture INTIENT Clinical platform is part of Accenture INTIENT™ and builds upon our market-proven platforms for research, clinical development, pharmacovigilance and patient services. It rapidly integrates new technology, advanced analytics and applied intelligence to support the delivery of patient treatments.
Accenture INTIENT has multiple components:
-INTIENT Research Platform connects researchers with software and service providers to share data and capabilities, and rapidly advance science
-INTIENT Clinical Platform has core capabilities that enable organizations to capture, store, import and standardize diverse and complex data, helping companies run faster clinical trial with better transparency and easier access to trial information
-INTIENT Pharmacovigilance Platform embeds real-time artificial intelligence, machine learning and advanced operational and scientific analytics in each step of the PV process—from case intake to regulatory reporting and distribution
-INTIENT Patient Platform helps life sciences companies better support patients from clinical trials through ongoing treatment and wellness
HOW IT WORKS
The INTIENT Clinical platform offers trusted and compliant digital health and patient data ingestion, storage and processing across functions, geographies and regulatory agencies. It empowers seamless and coordinated collaboration across the enterprise—from research to commercial—to unify teams with common insights and objectives. By leveraging industry-leading, cloud-based infrastructure with open interfaces to enable flexible adoption with existing systems it is extendable across growing businesses.
By enabling the application of artificial intelligence, smart automation, machine learning and advanced analytics— at scale—it positions companies to better discover and apply new insights. Also, by providing ready access to our external partner network of digital innovation, it removes barriers to entry for existing pharma companies and leading-edge technology, data and service providers. (It is, after all, trusted as the platform of choice by seven of the top ten global life sciences companies—after being initially introduced as the Accenture Life Sciences Cloud in 2013.)
SO HOW DOES IT REALLY WORK?
The INTIENT Research Platform connects researchers with software and service providers to share data and capabilities to rapidly advance science. This enables researchers to efficiently adopt new capabilities and re-imagine processes, user experiences and approaches to data-intensive research. The cloud-based research informatics platform is designed to improve productivity, efficiency and innovation in drug discovery. With INTIENT Network for Research, the platform also offers open, industry standard APIs for core research functions, which enables access to innovation through an ecosystem of independent software vendors and content providers.
Our INTIENT Clinical suite of tools provide simplified collection, cleansing and management of clinical data coupled with faster, improved access through smart analytics and intelligent data flow. INTIENT Clinical also delivers greater data transparency, allowing organizations to operate more efficiently and with an unconstrained ability to run clinical studies and make strategic decisions based on better insights. This is achieved while maintaining regulatory compliance and inspection readiness.
INTIENT Pharmacovigilance helps life sciences companies accelerate processes and the generation of critical insights—insights that can help companies uncover patient safety impacts from existing products and better manage the risks of new products, as well as respond to new stakeholder demands across the healthcare landscape. It equips companies with a centralized platform to collect, manage and learn from the entire spectrum of patient safety data. It also embeds real-time artificial intelligence, machine learning, robotic process automation and advanced operational and scientific analytics in each step of the pharmacovigilance process—from patient data source and case intake to regulatory reporting and distribution. It provides earlier insights, better data transparency, improved accuracy and consistency in reporting, and more timely discovery of potential adverse events.
The INTIENT Patient Platform is the supporting technology for Accenture's suite of outcomes-based patient services – helping life sciences companies provide more informed, connected support for patients. It has four integrated solutions:
-Real-World Evidence Research – Speeds and improves study through better patient identification, digital engagement and insight development
-Patient Engagement Support – Improves patient experience and brand performance through "smart" services for treatment initiation and management
-Precision Patient Care – Improves health outcomes and guide patient care through the use of digital, connected devices and precision medicine
-Personalized Commercial Execution – Optimizes commercial effectiveness through personalized targeting, messaging, and interaction
Perhaps the most exciting result of this partner ecosystem INTIENT Network, is that the interplay between ideas, information and capabilities has the potential to give pharmaceutical companies answers to questions they may not have known were important to ask. That's because the network enables access to an ecosystem of leading specialty technology solutions, digital health services, healthcare application providers and data providers. This allows life sciences companies to quickly and easily adopt new tools in a plug-and-play environment. The entire ecosystem benefits from lower barriers to entry as they bring new capabilities to market, while these innovations help life sciences companies advance their programs and re-imagine data-intensive solutions.
And ultimately, that can help pharmaceutical companies reinvent how they operate and provide a new standard for patient services.