Stevanato Group Presents Versatile On-Body Delivery System Platform for a Wide Range of Injectable Therapies & for Large Delivery Volumes
Stevanato Group S.p.A. recently unveiled Vertiva, the latest release of its patented On-Body Delivery System (OBDS), intended to be able to switch between basal and bolus injections and to be suitable for a wide range of subcutaneous therapies.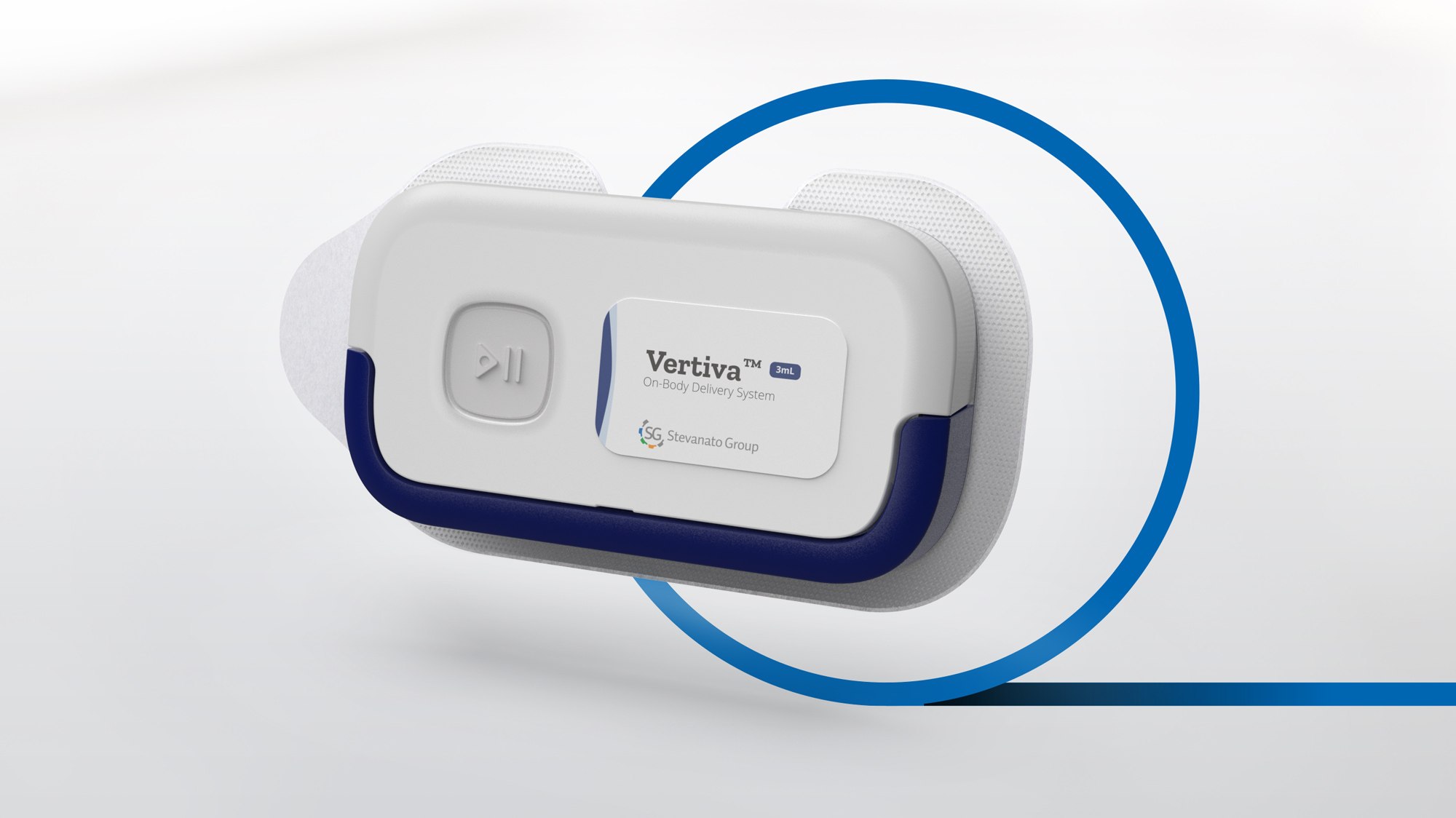 Vertiva's unique design consists of a single-use pod with a pre-filled and pre-loaded 3-mL ISO cartridge, and a multi-use controller, offering potential sustainability and affordability benefits. These two parts communicate through a patented magnetically coupled drive mechanism. The device can adapt to different delivery profiles and can enable the administration of small-molecule drugs and biologics. Vertiva's design is under development also to cover a broad range of volumes up to 10mL.
In the Vertiva device the cartridge is preloaded and sealed into the pod during factory assembly allowing the patient to benefit from simplified treatment initiation. Administrations can be conducted more comfortably at home, and the connectivity options of Vertiva can be ready for digital health applications. Upon treatment, the pod and controller can be more easily separated, and the controller can be reused, thereby reducing the environmental impact of electronic components.
Totally programmable to deliver micro-precision basal doses and full-content bolus injections, Vertiva is intended to be suitable for a wide range of therapies, such as cardiovascular and metabolic disorders, oncology, immunology, and pain diseases. Vertiva platform can also accommodate different customizations, including primary packaging format for larger injection volumes, delivery duration, and user interface.
The Vertiva brand name takes its cue from the word "versatility" and suggests that the delivery profile is flexible, as it is programmable for basal and bolus delivery. The name also evokes ease of use for patients.
Stevanato Group will leverage the recently announced collaboration with Thermo Fisher Scientific to bring Vertiva to market. The platform will be offered as an integrated device and fill-and-finish solution to streamline the management of the pharmaceutical supply chain. The unparalleled combination of capabilities from two established industry providers can support pharma companies from drug development through to the final packaged product. Along with the proprietary device platform, Stevanato Group will offer its pre-sterilized EZ-fill cartridges as drug containment solutions and assembly equipment, while Thermo Fisher will provide fill-and-finish and final assembly services.
"The Vertiva on-body delivery system supports pharma companies in increasing the accessibility of in-home care and administered treatment options, which can ultimately lead to an improved patient experience," said Steven Kaufman, VP for Drug Delivery Systems at Stevanato Group. "We are excited to be offering this device to the market, as it contributes to further strengthening our integrated capabilities in the drug delivery space. By utilizing a re-usable controller, we work towards greater sustainability and see cost benefits to our customers that use Vertiva."
Founded in 1949, Stevanato Group is a leading global provider of drug containment, drug delivery and diagnostic solutions to the pharmaceutical, biotechnology and life sciences industries. The Group delivers an integrated, end-to-end portfolio of products, processes and services that address customer needs across the entire drug life cycle at each of the development, clinical and commercial stages. Stevanato Group's core capabilities in scientific research and development, its commitment to technical innovation and its engineering excellence are central to its ability to offer value added solutions to clients. For more nformation, visit stevanatogroup.com.