Nemera's Preservative-Free Multidose Eye Dropper Approved for Santen's Drug in 29 European Countries
Nemera recently announce its multidose eye dropper Novelia has been approved for the preservative-free formulation Cosopt iMulti (20 mg/ml dorzolamide + 5 mg/ml timolol eye drops, solution).
The granting of licences by the relevant national European competent authorities represents an innovation in glaucoma management, providing preservative-free medicines in multi-dose bottles to allow for effective and convenient, 24-hour intraocular pressure (IOP) control to glaucoma patients aged 18 or over.
The European Medicines Agency (EMA) outlines that preservatives should be avoided in patients who are on long-term treatment, or do not tolerate preserved eye drops. Switching from preserved to preservative-free topical ocular medications can diminish the harmful effects caused by preservatives. For example, switching to Cosopt preservative-free improved local ocular tolerability for 85% of patients compared with their previous preserved medication.
Cosopt is indicated in the treatment of elevated IOP in patients with open-angle glaucoma or pseudoexfoliative glaucoma when topical beta-blocker monotherapy is not sufficient. European local market launches of the new preservative-free multi-dose formulations are expected throughout 2019, under the following names:

The new preservative-free multi-dose formulations have already been launched in some European local markets under the following names: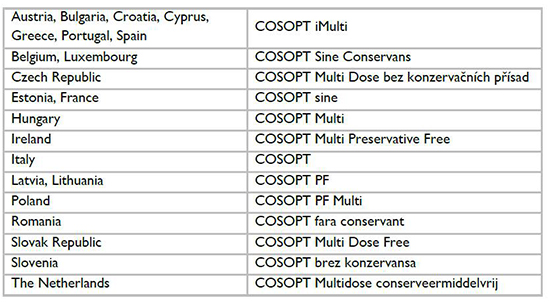 The preservative-free multi-dose bottles for Cosopt, developed by Nemera, feature a low squeeze force and smooth bottle, to reduce the pressure required to dispense a drop and improve ease-of-use, particularly for the elderly.
"We are delighted to launch preservative-free multi-dose formulations of these glaucoma therapies in Europe," said Luis Iglesias, Corporate Officer and Head of EMEA, Santen. "By providing highly effective and well-tolerated, preservative-free medicines, with the option for multi-dose bottles, we hope to empower patients in their daily lives and improve the management of their condition."
"Patient adherence is the key for success for all treatments, especially silent chronic ophthalmic diseases. This is why, at Nemera, we developed an innovative system combining all patient needs: a safe preservative-free multi-dose bottle with a blue tip that makes consistent drops one by one," added Fanny Sellier, Global Category Manager for Ophthalmic Products, Nemera.
Novelia is a multidose closing tip system which avoids the need for preservatives in the drug and prevents bacterial contamination over the duration of treatment.
It limits the distribution of liquid to one drop at a time, with a precise and consistent drop size, to improve patients' adherence.
Key benefits of Novelia
-100% controlled and safe thanks to its patented PureFlow Technology
-Works with high viscosity suspensions, emulsions and solutions up to 1500 cps
-User-friendly and intuitive: easy eye targeting thanks to its blue tip feature, as easy to use as any standard eyedropper
-One drop at a time into the patient's eye
-Calibrated drops providing a precise dose for a better treatment adherence
For more information, visit https://www.nemera.net/products/ophthalmic-novelia-eyedropper/.