Needle-Free Vaccine Delivery Platform Aims to End Frozen Storage Needs & Improve Access
CEPI, the Coalition for Epidemic Preparedness Innovations, and aVaxziPen Ltd recently announced a partnership to advance the development of two vaccines candidates (one protein and one mRNA-based) using aVaxziPen's solid dose vaccine delivery platform, which could help end the need for frozen storage of vaccines, thereby improving equitable access to vaccines. CEPI will initially provide up to $1.6 million to establish proof-of-concept for aVaxziPen's vaccine delivery technology by evaluating stability, delivery, and preclinical immunogenicity of both mRNA- and protein-based vaccines developed using aVaxziPen's platform.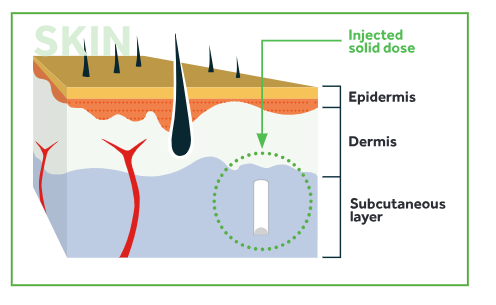 Advances in vaccine technology have been critical to the global response to COVID-19, but one of the challenges the world faced in getting these lifesaving vaccines to vulnerable populations—particularly those people in poorer countries—was the need to store them at low or very low temperatures.
The current generation of mRNA vaccines require frozen storage due to the fragility of mRNA molecules. Once removed from the freezer, these vaccines usually have to be used within a short timeframe. Removing the need for frozen storage would make mRNA vaccines significantly easier, and cheaper, to ship, store, and distribute in low-resource settings. While protein-based vaccines do not typically require frozen storage, they often need to be stored at temperatures between 2°C-8°C, so developing a protein vaccine platform capable of withstanding temperatures of up to 40°C for at least 1-2 months would help to simplify last-mile delivery of these vaccines, even in the most remote regions of the globe.
aVaxziPen's solid-dose vaccine technology uses a pen applicator device and is designed to address these challenges by protecting the mRNA and proteins against degradation, potentially removing the need for frozen storage for mRNA vaccines, and the need for cold-chain storage altogether for protein-based vaccines. It does this through its proprietary solid-dose formulation technology, which uses precision engineering to produce a thermostable, guaranteed solid-dose formulation.
In addition to being thermostable, aVaxziPen's applicator device offers other potential benefits, including ease of administration (requiring no specialized-medical training), and it can be reused for 1,000 doses, helping to minimize waste. Its light and robust presentation also makes it ideal for shipment and storage.
If the initial preclinical proof-of-concept is successfully established, CEPI and aVaxziPen may agree to further the partnership by agreeing on vaccine candidates (to align with unmet vaccination needs in low- and middle-income countries) to take forward into Phase 1 clinical trials.
This project is the third to be announced as part of CEPI's January 2022 Call for Proposals, aimed at improving thermostability of—and thereby improving equitable access to—a variety of new vaccine platforms. This Call forms part of CEPI's wider strategic goal of harnessing innovative technologies to improve the speed, scale and access of vaccine development and manufacturing in response to epidemic and pandemic threats.
CEPI and aVaxziPen are committed to enabling global equitable access to vaccines developed through their partnership. Under the terms of the funding agreement, aVaxziPen has committed to ensuring supply for low- and middle-income countries (LMICs), production of vaccine volumes required to meet public health needs, affordable pricing for LMICs, and the potential technology transfer to LMIC manufacturers in line with CEPI's Equitable Access Policy.
Anand Ekambaram, Executive Director of Manufacturing and Supply Chain, CEPI, said "Equitable access is at the heart of CEPI's mission. aVaxziPen's innovative vaccine delivery technology requires little-to-no training to administer, while simultaneously reducing the need for expensive and burdensome cold-chain storage, allowing for easier distribution and administration. These innovations would ultimately help to enable greater access to potentially lifesaving vaccines in lower resource settings when a future outbreak or pandemic threat emerges."
Robin Cohen, Chief Business Officer, aVaxziPen, added "We're delighted to be working with CEPI as an important strategic partner to demonstrate the great potential of our vaccine technology. Collaboratively we will bring our solid-dose vaccine formulations to two vaccines to demonstrate significantly improved and extended thermostability, as well as testing immunogenicity with plans to progress into Phase 1 clinical trials. This is a great step forward in our mission to disrupt the vaccine market, providing improved vaccine coverage around the world, reaching under-served populations and markets."
CEPI is an innovative partnership between public, private, philanthropic, and civil organisations, launched in 2017, to develop vaccines against future epidemics. Its mission is to accelerate the development of vaccines and other biologic countermeasures against epidemic and pandemic threats so they can be accessible to all people in need.
Prior to COVID-19, CEPI's work focused on developing vaccines against Ebola virus, Lassa virus, Middle East Respiratory Syndrome coronavirus, Nipah virus, Rift Valley Fever virus and Chikungunya virus – it has over 20 vaccine candidates against these pathogens in development. CEPI has also invested in new platform technologies for rapid vaccine development against unknown pathogens (Disease X).
CEPI has played a central role in the global response to COVID-19, supporting the development of the world's largest portfolio of vaccines against SARS-CoV-2 and its variants with a focus on speed, scale and access, as well as co-leading COVAX, the global initiative to deliver fair and equitable access to COVID-19 vaccines. CEPI is also the world's leading funder of R&D for broadly protective coronavirus vaccines which could protect against future variants of COVID-19 as well as other coronaviruses with epidemic and pandemic potential.
CEPI has embarked upon an ambitious $3.5-billion 5-year plan – called CEPI 2.0 – to dramatically reduce or even eliminate the future risk of pandemics and epidemics. Central to the plan is CEPI's goal – supported by the G7 and G20 – to compress the time taken to develop safe, effective, globally accessible vaccines against new threats to just 100 days. Achieving this '100 Days Mission would give the world a fighting chance of containing a future outbreak before it spreads to become a global pandemic. Read the plan at endpandemics.cepi.net/
Based in the UK near Oxford, aVaxziPen is developing next-generation vaccination products targeting infectious diseases and emergent threat pathogens enabled by its proprietary aVaxziPen technologies. aVaxziPen creates and delivers vaccines in needle-free, thermally stable, solid dose format that is applicable across all types of vaccines. Our aim is to transform the delivery of vaccines using needle-free dosing and reduce or eliminate the requirement for cold chain storage to make a lasting positive impact on global health.
aVaxziPen's proprietary technology consists of a multi-use applicator coupled with a disposable cartridge containing a single, solid dose of vaccine, which does not require reconstitution prior to use. The solid dose vaccine is administered quickly and easily by simply pressing the cartridge onto the upper arm. Our products are designed to enhance the recipient's immune response and offer significant benefits for patients, caregivers, healthcare professionals, and payers.
Our pipeline targets a range of common and emerging infectious diseases, inflammatory diseases, and allergies, and has been established through collaborations with world-class organisations, including BARDA DRIVe*, the Bill & Melinda Gates Foundation, Innovate UK, the University of Oxford, the Walter Reed Army Institute of Research (WRAIR), Imperial College London, and the University of Adelaide. We are also advancing several collaborations with leading organisations for use of our technology in the veterinary health setting.
aVaxziPen's experienced leadership team has a proven track record in the successful development and commercialisation of innovative products delivering high-value outcomes for all stakeholders and is supported by a world-renowned Scientific Advisory Board.
*This project has been funded in whole or in part with US Federal funds from the Department of Health and Human Services; Office of the Assistant Secretary for Preparedness and Response; Biomedical Advanced Research and Development Authority, DRIVe, under Contract No. 75A50119C00032.