Empty Capsules Market is Expected to Reach $4.9 Billion
The empty capsules industry is poised for significant growth in the near future. With the rising demand for pharmaceutical and nutraceutical products, the market for empty capsules is expected to expand. Factors such as increasing consumer preference for convenient and customizable dosage forms, advancements in capsule technology, and the growing need for specialized drug delivery systems are driving the industry forward. Moreover, the expanding geriatric population and the prevalence of chronic diseases are further boosting the demand for empty capsules as a preferred choice for medication administration. Additionally, the adoption of vegetarian and vegan lifestyles is fueling the demand for plant-based and non-animal-derived capsules. With ongoing research and development activities focused on improving capsule quality, stability, and compatibility with various formulations, the empty capsules industry is set to witness substantial growth in the near future.
Empty Capsules market in terms of revenue was estimated to be worth $3.2 billion in 2023 and is poised to reach $4.9 billion by 2028, growing at a CAGR of 9.3% from 2023 to 2028 according to a latest report published by MarketsandMarkets. Growing demand of nutraceuticals an increasing number of clinical trials and growth in the pharmaceutical market are some of the major factors propelling the growth of this market. However, the cultural practices & dietary restrictions is likely to restrict the growth of empty capsules market.
Empty Capsules Market Scope: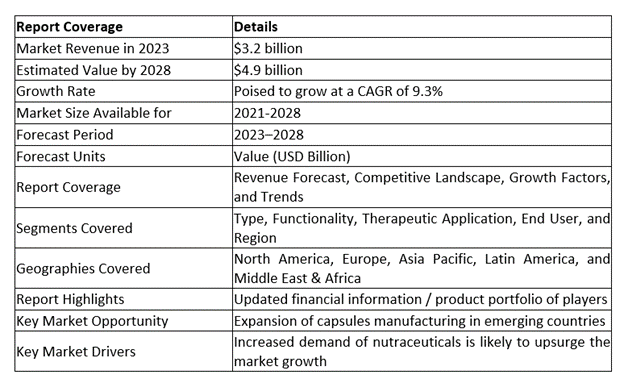 Based on type, the empty capsules market is segmented into gelatin capsules and non-gelatin capsules. In 2022, gelatin capsules segment accounted for the largest share. The dominance of the segment is attributable to its advantages such as rapid drug release, better consumer experience, drug safety and uniform mixing of drugs.
Based on functionality, the empty capsules market is segmented into immediate-release capsules, sustained-release capsules, and delayed-release capsules. In 2022, immediate-release capsules segment accounted for the largest share of empty capsules market. Increasing applications of immediate-release capsules are driving the segmental growth.
The global empty capsules market is segmented into North America, Europe, Asia Pacific, Latin America, and the Middle East and Africa. In 2022, North America dominated the empty capsules market followed by Europe and Asia Pacific respectively. Asia Pacific region is likely to grow at a faster pace during the forecast period of 2023-2028. The overall share of this region in the global market is gradually increasing, owing to growth in pharmaceutical markets and their manufacturing capacities. High-growth regions such as China, and India are expected to be major contributors to the Asia-Pacific empty capsules market.
Key market players operating in empty capsules market players are Capsugel (US), ACG Worldwide (India), Qualicaps (US), CapsCanada Corporation (Canada), Suheung Co. Ltd. (Korea), and Natural Capsules (India).
Enquiry Before Buying: https://www.marketsandmarkets.com/Enquiry_Before_BuyingNew.asp?id=218018190
Hypothetic Challenges of Empty Capsules Market in Near Future:
Raw material availability and cost: The production of empty capsules relies on the availability and affordability of raw materials such as gelatin or alternative polymers. In the future, there may be fluctuations in the availability and cost of these materials, which could impact the manufacturing and pricing of empty capsules.
Regulatory changes: The regulatory landscape surrounding empty capsules may evolve, with new guidelines or stricter regulations implemented by regulatory authorities. Compliance with these regulations could pose challenges for manufacturers, especially smaller players in the market.
Increasing competition: As the demand for empty capsules grows, the market may become more saturated with new entrants. This could lead to increased competition and pricing pressures, requiring companies to differentiate themselves through innovation, quality, or cost-effectiveness.
Technological advancements: While technological advancements can drive growth in the market, they can also present challenges. For example, the development of advanced drug delivery systems or alternative dosage forms may reduce the demand for traditional empty capsules, requiring companies to adapt and innovate to stay relevant.
Consumer preferences and trends: Consumer preferences and trends can change rapidly, impacting the demand for specific capsule types, sizes, or materials. Manufacturers will need to stay attuned to consumer needs and adapt their offerings accordingly to meet evolving market demands.
Sustainability and environmental concerns: As environmental consciousness increases, there may be a growing demand for eco-friendly and biodegradable capsule materials. Manufacturers will need to address sustainability concerns and develop more environmentally friendly alternatives to meet consumer expectations.
While these challenges are hypothetical, it is important for companies in the empty capsules market to stay agile, innovative, and responsive to changing market dynamics to ensure continued growth and success in the face of potential challenges.
Top 3 Use Cases of Empty Capsules Market:
Pharmaceutical Industry: The pharmaceutical industry is the primary user of empty capsules. Empty capsules serve as a preferred oral dosage form for a wide range of medications, including both prescription and over-the-counter drugs. They provide a convenient and efficient means of administering solid formulations, such as powders, granules, and pellets. Empty capsules offer accurate dosing, protect the active ingredients, and facilitate easy swallowing for patients. They are used for a diverse range of therapeutic areas, including pain management, gastrointestinal disorders, respiratory conditions, and nutritional supplements.
Nutraceutical Industry: The nutraceutical industry relies on empty capsules as a popular encapsulation method for dietary supplements and functional foods. Empty capsules provide a versatile and customizable delivery system for encapsulating vitamins, minerals, herbal extracts, probiotics, and other nutritional ingredients. They offer a convenient and tasteless way of delivering these substances, allowing consumers to easily incorporate them into their daily routines. The use of empty capsules in the nutraceutical industry ensures accurate dosing, enhances product stability, and provides an effective means of delivering beneficial nutrients to consumers.
Research and Development: Empty capsules also play a crucial role in research and development activities. They are widely used in the development and testing of new drug formulations, especially during the early stages of drug development. Empty capsules serve as a vehicle for encapsulating experimental drug compounds or formulations, allowing researchers to evaluate their pharmacokinetics, bioavailability, and efficacy. By encapsulating drugs in empty capsules, researchers can control the release rate, protect sensitive compounds, and facilitate administration in preclinical and clinical studies.
Overall, the top three use cases of the empty capsules market are within the pharmaceutical industry, the nutraceutical industry, and research and development activities. These applications highlight the versatility, convenience, and reliability of empty capsules as a preferred dosage form in various industries.
Recent Developments:
In May 2022, Capsugel launched Titanium dioxide-free (TiO2-free) white hard gelatin capsule, which meets the demand of titanium dioxide-free for foods in the European Union.
In November 2021, ACG launched a global nutraceutical campaign 'ACG loves nothing' to promote problem free nutraceutical production and bring attention to the company's intention to develop high quality capsules for pharmaceutical and nutraceutical industry.
In March 2021, ACG launched ACGcaps NTone and ACGcaps TSafe range of capsules for the nutraceutical market.
Get 10% Free Customization on this Report: https://www.marketsandmarkets.com/requestCustomizationNew.asp?id=218018190
MarketsandMarkets is a blue ocean alternative in growth consulting and program management, leveraging a man-machine offering to drive supernormal growth for progressive organizations in the B2B space. We have the widest lens on emerging technologies, making us proficient in co-creating supernormal growth for clients.
The B2B economy is witnessing the emergence of $25 trillion of new revenue streams that are substituting existing revenue streams in this decade alone. We work with clients on growth programs, helping them monetize this $25 trillion opportunity through our service lines – TAM Expansion, Go-to-Market (GTM) Strategy to Execution, Market Share Gain, Account Enablement, and Thought Leadership Marketing.
Built on the GIVE Growth principle, we work with several Forbes Global 2000 B2B companies – helping them stay relevant in a disruptive ecosystem. Our insights and strategies are molded by our industry experts, cutting-edge AI-powered Market Intelligence Cloud, and years of research. The KnowledgeStore (our Market Intelligence Cloud) integrates our research, facilitates an analysis of interconnections through a set of applications, helping clients look at the entire ecosystem and understand the revenue shifts happening in their industry. For more information, visit www.MarketsandMarkets.com or follow us on Twitter, LinkedIn and Facebook.