Don't Miss RNA Medicine in a Pandemic Symposium on July 23! 
Join us Thursday, July 23, as we are hosting an RNA Symposium bringing together leading experts in RNA medicine, delivery, technology development, and solutions for manufacturing to present and discuss their cutting edge research and expertise. RNA-based genetic vaccines represent the most promising approach for the rapid development and commercial deployment of a COVID-19 vaccine. Click Here to Register
Keynote speakers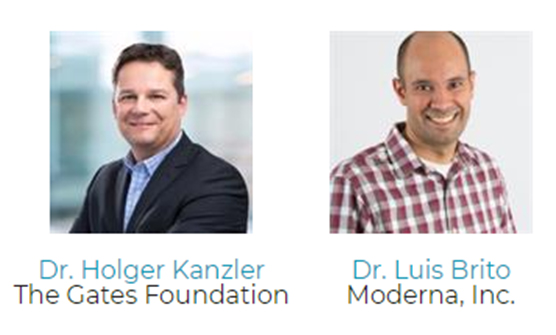 Additional speakers include:
Dr. Holger Kanzler, The Gates Foundation
Dr. Luis Brito, Moderna, Inc.
Dr. Guarav Sahay, Oregon State University
Dr. Anton McCaffrey, TriLink
Dr. G Brett Robb, New England Biolabs
Dr. Bijoyita Roy, New England Biolabs
Annie Dosey, University of Washington
Dr. Andy Geall Precision Nanosystems
Dr. Lloyd Jeffs, Precision Nanosystems
The purpose of the RNA Symposium is to explore the necessary foundation to rapidly commercialize a COVID-19 vaccine and lay the groundwork to revolutionize future epidemic response. This area of research significantly expands the known boundaries of the human genome and offers scientists and clinicians new avenues to understand the causes and treatment of disease. For more information about the event, click here.