A Collaborative Effort Paves the Way for a New Approach to Small Batch Manufacturing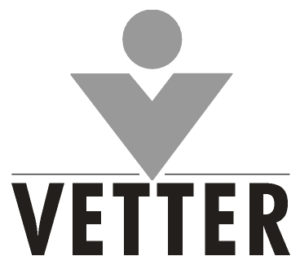 By: Arno Schroff, Director Site & Plant Development, Vetter Pharma-Fertigung GmbH & Co KG
In today's pharmaceutical industry there is a sharp focus on the needs and requirements of the patient. More and more drugs are being developed for specific patient groups. Orphan drugs, for example, may require small batch sizes ranging anywhere from 500 to 5,000 units. This level of manufacturing presents pharmaceutical service providers with new technical and economic challenges, including filling, process design, and quality concepts. To be in the position to optimally supply its customers, manufacturers must offer filling systems that are reliable and flexible with quick decontamination, aeration, and product and format changeover, all in accordance with international regulatory requirements.
As a future-oriented service provider, Vetter continuously monitors new market trends and customer requirements in order to be in the position to adapt its range of services if necessary. That is why Vetter and Syntegon Technology GmbH have joined forces to develop a new industry standard for fill/finish for small production quantities. Based on the long experience in the respective fields of ​​process development for aseptic filling and clean room technology     (V-CRT©) as well as system and plant technology, a concept was derived that meets the specific requirements for small-scale commercial manufacturing. Technically speaking, the objective is the development of an innovative, GMP-compliant, and highly flexible production cell based on isolator technology.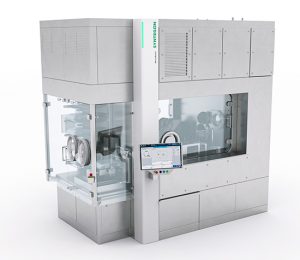 The core of the new filling system is a robotized filling equipment within a gloveless isolator for preventing the risk of microbiological contamination by operators. The innovations that have been integrated include a robot that not only does the filling, but also the line set-up and environmental monitoring. To avoid exposure of the packaging components with hydrogen peroxide, the isolator is equipped with a de-bagging and lock-system. To enable the highest possible product protection regarding hydrogen peroxide exposure, the setup of filling equipment begins only after hydrogen peroxide decontamination is completed. Additionally, an integrated and comprehensive monitoring system enables verification of the microbiological status at all times. With the focus on flexibility, a broad range of pre-sterilized packaging components can be handled either in a cup-nest or a clip-nest configuration as well as glass and plastic containers. With all these process variants, it is essential to have only a few formats parts to guarantee quick change-overs. Finally, 100% fill weigh checks allow for continuous process control.
The joint project is currently in the realization process. The detailed design phase has already started and we are looking forward to the first mock-ups to be ready soon.