WEBINAR – Getting to the Core of Pellet Coating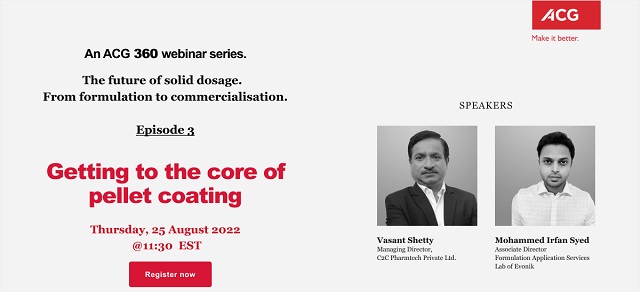 Getting to the Core of Pellet Coating
When
August 25, 2022, 11:30 AM Eastern Time (US & Canada)
REGISTER NOW
An ACG 360 webinar series.
The future of solid dosage.
From formulation to commercialisation.
Tomorrow's oral solid dosage will be shaped by how you manufacture today. So are you adopting new technologies, and reimagining old ones?
New times call for new ways of thinking, so with this in mind you'll need to:
• design patient-centric formulations and packaging
• create processes that guarantee quality
• improve operational agility continuously to ensure faster speed-to-market
• respond smartly to escalating market demand
• all of the above, while also remaining cost-effective.
Join us to find out more about staying competitive in an increasingly complex market, and to discover new opportunities for co-creating with us.
This webinar is part of 'The future of solid dosage', an ACG 360 webinar series covering wide-ranging, simple and transformative ways to achieve smarter pharma formulation, manufacture and packaging.
We're sharing the industry's most comprehensive and holistic view… as only we can.