SPECIAL FEATURE – Transdermal, Topical & Subcutaneous: Non-Invasive Delivery to Expand Product Line Extensions
The overall landscape of the transdermal, topical, and subcutaneous markets continue to change – for the better – as non-invasive delivery of drugs to the skin or to the systemic circulation via the skin is a highly attractive proposition for many active drugs, be they poorly soluble or subject of first-pass metabolism when administered orally. Equally attractive is the possibility of administering chronic therapies via the skin, translating to convenience, safety, patience compliance, and drug efficacy. Thus, the pharmaceutical industry has an opportunity to expand on product line extensions for existing drugs.
In this Drug Development & Delivery feature, delivery system providers and contract developers and manufacturers were asked to describe their products and service offerings in their respective area of expertise.
The transdermal delivery market was valued at $21.5 billion in 2010 and is predicted to reach $31.5 billion by 2015, according to a PharmaLive Report. The annual US market for transdermal patches is estimated at more than $3 billion, and transdermal drugs account for more than 12% of the global drug delivery market. Transdermal drug delivery prevents many of the problems associated with oral and intravenous routes. Major advantages provided by transdermal drug delivery include improved bioavailability, more uniform plasma levels, longer duration of action resulting in less dosing frequency, reduced side effects, and improved therapy due to maintenance of plasma levels. Transdermal drug delivery is used in areas such as pain management and women's health. Pharmaceutical, biotechnology, and drug delivery companies are poised to tap the hidden potential in transdermal drug delivery applications, such as wound care, monitoring, and diagnostic methods. The development of successful transdermal drug delivery systems in these areas will play an important role in improving patient quality of life.
3M Drug Delivery Systems – Putting Convenience & Compliance Into a Patch
3M Drug Delivery Systems serves as a contract manufacturer to pharmaceutical companies that market transdermal products, and also helps companies develop and adapt their drugs for transdermal delivery. 3M Drug Delivery Systems provides development services – taking drug products and adapting them into the transdermal dosage form. 3M Drug Delivery Systems can also provide basic contract manufacturing services by taking an existing product or one that it developed and manufacture it for the customer.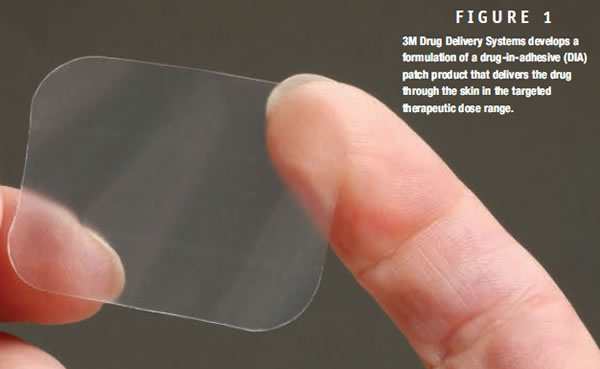 "Clients interested in developing new drugs into transdermal products are often challenged with being able to achieve consistent delivery at the desired rate and pharmacokinetic profile to obtain the desired therapeutic effect," says Jordan Fineberg, Global Business Manager, Transdermal Drug Delivery Systems for 3M Drug Delivery Systems. "Fortunately, we are able to provide very strong technical capabilities and analytics in our labs to help clients overcome those technical challenges."
To create a passive transdermal product, 3M Drug Delivery Systems develops a formulation of a drug-in-adhesive (DIA) patch product that delivers the drug through the skin in the targeted therapeutic dose range.
"Our DIA systems are versatile enough to be compatible with a variety of drugs, and our targeted market is companies with APIs that fit the transdermal profile. We help our customers develop their products in a way that achieves a consistent, controlled-release dosage level that can be difficult to achieve by other forms of administration," adds Mr. Fineberg.
Transdermal patches are distinguished by other systems by the duration for which they can be worn. Products can be created that deliver multi-day dosing at a very specific PK profile. Additionally, continued advancements allow this system to deliver more than one drug in a single patch, adding to convenience for patients. With the ability to deliver a controlled release of API over multiple days, patient compliance is possibly improved.
"We see continued generic entrants into the transdermal market, particularly with a couple of big drugs that will go generic in the next 3 to 5 years," predicts Mr. Fineberg. "In our own future, we see 3M Drug Delivery Systems working with both branded and generic companies in developing and manufacturing their transdermal products."
Adhesives Research, Inc. – Responding to Skin-Friendly, Long-Term Wear Adhesives
Adhesives Research specializes in the custom development of unique component adhesives, films, and laminates for transdermal and buccal drug delivery. The company offers complete customization of our platform technologies (examples such as wear-times, moisture vapor transmission, shear, etc.) to create the tailored functionality required of the adhesives used in a customer's applications.
Today, many companies are developing drug delivery devices that will be bonded to the skin for longer periods of time. The majority of transdermal patches and drug delivery devices available today are dailywear devices that are typically removed within 24 hours of application; however, formulators are developing extended-wear patches designed to be worn for multiple days, up to a week. In the case of insulin infusion pumps, the adhesive must reliably attach a device to skin while bearing load.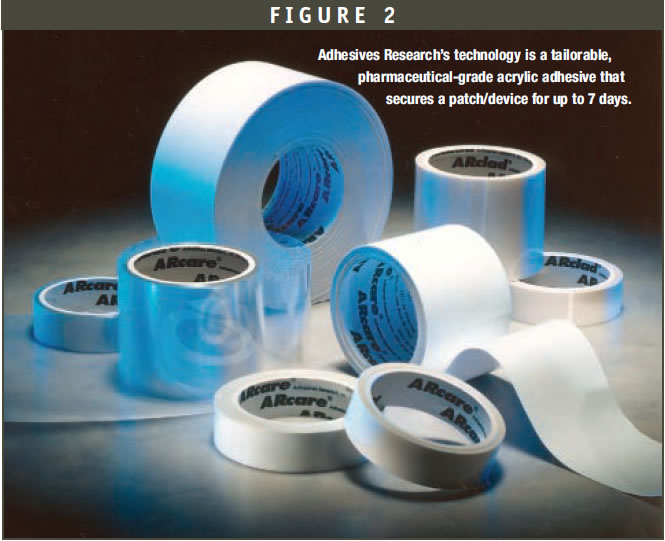 "While aggressive adhesion ensures a secure bond to skin for addressing dosing concerns, it can potentially cause discomfort upon patch removal," says Mary Lawson, Pharmaceutical Business Manager, Adhesives Research, Inc. "Pain is caused when the adhesive removes skin cells and/or hair when the device is pulled away. Also, an aggressive adhesive that releases uncleanly may leave behind an unwanted residue on the skin that is difficult to remove."
In response to the need for skin-friendly, long-term wear adhesives, Adhesives Research's newest technology addresses the need through a tailorable, pharmaceuticalgrade acrylic adhesive technology that meets the critical design parameters for securing a patch/device for periods up to 7 days to ensure adequate skin bonding with residuefree removal.
"In spite of the adhesive's aggressive nature, the pain experienced upon removal is considered to be low-to-moderate, and studies have shown that removal of the adhesive tape does not cause disruption of the stratum corneum," says Ms. Lawson.
As a general rule, adhesives for  transdermal patches are formulated to present aggressive bonds with flexibility and conformability to ensure the patch or device remains firmly in place without lifting or fall-off to ensure a therapeutic dose.
Ms. Lawson explains, "Our long-term wear adhesives are designed to withstand physical activity, constant friction from clothing, periodic moisture exposure, and varying degrees of skin porosity and oil levels without shifting or moving."
Adhesives Research's work is complemented by its relationship with its subsidiary, ARx LLC, a collaborative technology partner. ARx LLC is experienced in developing polymer chemistries, that when combined with its client's APIs and complementary materials, transform into transdermal, transmucosal, and soluble film products. This includes single- and multidrug products as well as immediate- and controlled-release offerings. ARx LLC develops and manufactures innovative pharmaceutical products with a focus on unique technologies in oral, topical, and transdermal drug delivery. The ARx products range from first-in-class immediate-release OTC and prescription soluble films to multiday, sustained-release transdermal patch delivery. The ARx sole objective is to work hand-in-hand with its pharmaceutical partners to develop and launch therapeutically relevant products that have the potential to extend a molecule's product lifecycle, deliver new compounds, or provide better product performance in the areas of bioavailability, compliance, and/or cost.
"The model is evolving in how companies talk to us about their product design. A decade ago, our partners came to us at the onset of a project with a predetermined path for integrating a molecule into a delivery platform technology," says Megan Greth, Business Manager, ARx, LLC. "Today, the conversation is much more open from the start of a project and is first focused on understanding the improved therapeutic outcome followed by evaluating the various technologies available for delivery. Basically, the conversation has evolved to a broader dialogue in which we evaluate the best delivery options based on the patient population we are targeting.
"The diversity of the Adhesives Research and ARx technology platforms inherently enables us to provide design flexibility and developmental support to our clients from concept to commercialization," Ms. Greth concludes.
DBV Technologies – Addressing Unmet Allergy Treatments for Young Children
According to the World Health Organization, allergies constitute the world's fourth largest public health issue and affect 500 million people worldwide. Allegies affect somewhere between 25% and 40% of the adult population and more than 50% of children in developed countries. Environmental, pollution, and changing food habits are contributors to the rapid increase in the prevalence of allergies.
DBV Technologies focuses on food and pediatric allergy desensitization. The company has developed a patented skin patch, Viaskin® that puts the allergen into contact with the immune system via immune cells present in the superficial layers of the skin, while avoiding disruption of the blood/skin barrier. This approach, which significantly reduces the risk of serious anaphylactic shock, enables Viaskin to fulfill at least two critically important medical needs that were previously unmet, explains Pierre-Henri Benhamou, CEO of DBV. First, Viaskin targets food allergies, in which the risk of anaphylactic shock is high, and second, the Viaskin patch is suitable for desensitizing children under the age of 5.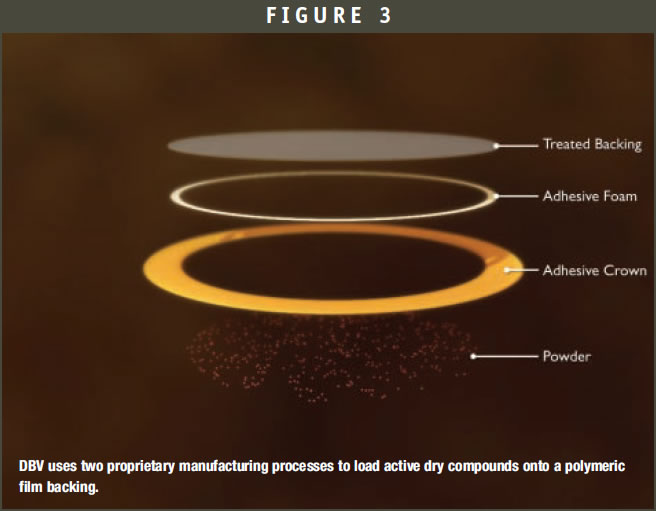 "Therefore, we are in a position to address allergies that are not treatable by conventional pharmaceutical therapies, he says."
When Viaskin, containing a specific allergen, is applied on the skin, the allergens are desposited locally on the skin and are taken up by the skin's immune-competent cells, triggering the immune response. The allergens are taken up in the superficial layers of the skin without crossing the basal membrane and preventing the allergen from reaching the bloodstream.
DBV uses two proprietary manufacturing processes to load active dry compounds onto a polymeric film backing via electrostatic force: static powder and electrospray deposit, a precise method of layering a controlling solution of the allergen on the patch so that it is dry and stable.
DBV has developed Viaskin Peanut for peanut allergy, Vaskin Milk for treating IgEmediated cow's milk allergy, and Viaskin House Dust Mites for preventing asthma in young children. In December 2011, DBV received Fast Track Designation for its Viaskin Peanut clinical development program.
"This designation was very important for us as we believe this translates to a real unmet medical need that patients, regulators, and DBV are willing to fulfill," says Mr. Benhamou.
Scientific and technological advances in recent decades have widened the scope of possibilities for therapies to or via the skin, enabling targeted delivery of drugs to specific layers of the skin, muscle tissue, or even to the systemic circulation with unprecedented precision and exactitude. Since the advent of the first transdermal patch in the late 1970s, the pharmaceutical industry has witnessed successful delivery of chronic therapies like hormones, nicotine, and NSAIDS systemically via the skin. These innovations have significant advantages over the oral route: patient compliance, improved plasma levels, and reduced side effects. Topical OTC drugs are an important market segment with forecast worth expected to exceed $870 million in 2014, according to Datamonitor. Antiseptic cleansers account for the largest part of the topical OTC medicines market at almost 60%, with anti-itch products in second place at almost 28%, followed by anesthetic products, which represent more than 10% of the segment.
Dow Pharmaceutical Sciences – A One-Stop-Shop Approach to Topical Development
Dow Pharmaceutical Sciences provides contract development services and clinical manufacturing, both sterile and non-sterile, to the pharmaceutical and biotechnology industries. With a focus being solely on topicals, Dow Pharmaceutical Sciences spends a lot of time developing ophthalmic products. Its newest service, Sterile Product Development, supports the development of customers' topical products containing NCEs, NMEs, or approved molecules, through to  GMP manufacturing of supplies for Phase I and Phase II clinical trials. Clients can access all services required to support development of their sterile product. These include formulation development and in vitro drug penetration testing, analytical method development, stability testing, GMP & GLP manufacturing, labeling, and distribution of clinical supplies to test sites worldwide. The company provides a full team of specialists focused solely on topical product development working in one location.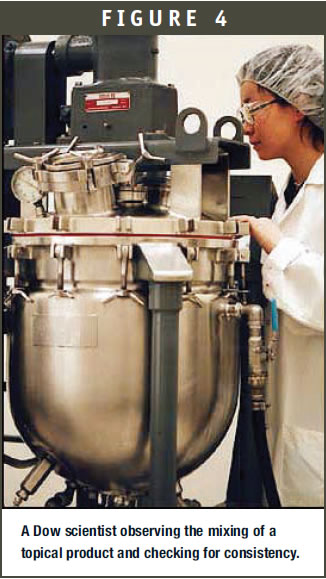 "Our new One-Stop-Shop provides customers with their best chance of success and fastest route to market, saving them both time and money," says Vanlee F. Waters, Assistant Director of Marketing, Dow Pharmaceutical Sciences.
Dow's turnkey development process includes preformulation (drug solubility, excipient, and solvent compatibility) evaluations, formula design, and development of multiple prototypes. Multiple prototypes based on different delivery systems are developed to maximize success for chemical and physical stability, release from the formulation, and penetration into the skin or tissue as desired.
Mr. Waters says that Dow has experience in working with the FDA's Dermatology division. "Working closely with the FDA provides us with an intimate knowledge of their Non-Clinical and Clinical requirements, allowing us to get more products approved for our customers. Our track record remains second to none: 31 New Drug Approvals for prescription topical dermatological products were approved by the FDA during 2005-11: 10 of these formulations were developed at Dow," he says.
Going forward, Mr. Waters says Dow will stay the course long-term and continue to leverage its focus and experience in topical product development.
"As a boutique CDO provider to large and specialty pharma, we will continue to leverage our expertise in topical product development, non-clinical, clinical, and regulatory affairs."
Ei Inc. – Laser Focused on Topicals
Ei Inc. is focused solely on topical semisolids and liquids, and it is this expertise that Roger Martin, Senior Vice President of Sales and Marketing, says makes the company stand out in a market that seems to be fragmenting into specialty fields.
"Clients are not really looking for one provider to manufacture all of their tablets, injectibles, and topicals under one roof. They instead want a vendor who is an absolute expert at a given dosage form," he says.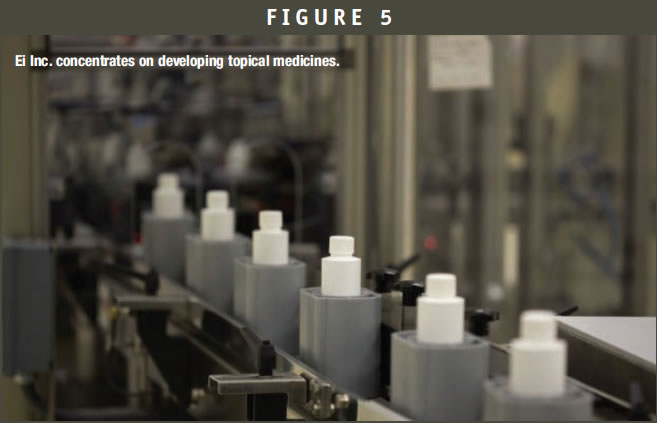 Clients coming to Ei Inc. are looking for topical products, and thus aesthetics and stability of the formulation are both very important. "Our formulation scientists have decades of experience working with various APIs used in topical medicines, and they work diligently to create both an efficacious and pleasant delivery vehicle," says Mr. Martin.
Critical to Ei's mission is to protect the client's brand by offering a level of quality that never puts their product in jeopardy, and service levels that allow them to plan their business effectively, Mr. Martin stresses. "By offering complete development, analytical, stability, and manufacturing services for topical products, Ei has positioned itself to serve customers in this niche better than any other."
Ei recently announced its partnership with Keranetics in which Ei will start manufacturing the API for Keranetic's wound care and burn care products. This is Ei's first venture into API manufacturing.
"Ei is laser focused on the topical marketplace, and we have expanded our R&D, analytical, and manufacturing capabilities to meet this demand," explains Mr. Martin. "We have heavily invested in both people and equipment so that our services can meet or exceed the expectations of our customers."
Gattefossé – Excipients for Safe and Effective Topical Delivery
Gattefossé specializes in topical formulations by virtue of the products in its offering. Gattefossé designs, manufactures, and markets functional excipients globally. Each product is developed to meet a unique formulation challenge and is supported by research and data generated internally. Before launching, every excipient is tested to ensure a high safety profile and conformity to NF, EP, JP, and other well-recognized pharmacopoeia. Since 2004, for example, the company has been responsible for the completion of more than 25 NF and EP monographs.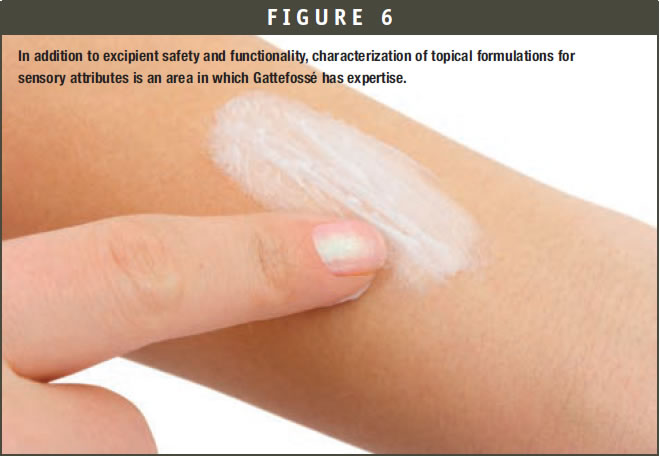 Gattefossé has a range of solubilizers and penetration or permeation enhancers. For instance, many marketed products already include Transcutol®, an excipient that facilitates passage of drugs across the stratum corneum, but creates a drug depot effect in subcutaneous layers of the epidermis.
The company has a range of emulsifiers for one pot, cold process, and low-energy emulsification processes, also coded in innumerable products worldwide. The list includes Tefose® 63, a self-emulsifying base, known for its innocuity and safety profile for mucosal/vaginal delivery of antifungals. Other products like Labrafil®, Labrasol®, and CapryolTM help modulate permeation across the epidermis.
In 2011, Gattefossé announced the inauguration of a new research center in Saint-Priest, France. Bringing together the formulation and R&D laboratories, the18,000-sq-ft facility is built to encourage and facilitate exchange of ideas and resources between various groups engaged in excipient characterization and expansion of that knowledge in relation to functionality in different drug delivery systems.
"Parallel to safety and regulatory qualifications, Gattefossé's business culture places emphasis on understanding the specific characteristics and functionality of excipients in every formulation design. Developing and sharing that knowledge, as to how our excipients can help improve, differentiate, and innovate customers' products, is the key to the continued success of the company," says Jasmine Musakhanian, Marketing & Scientific Director, Pharmaceutical Division, Gattefossé USA.
Characterization of topical formulations for sensory attributes (feel, touch, spreadability, etc.) is another area in which Gattefossé has expertise. "The subject has traditionally been of interest to personal care customers, but is now expanding to pharmaceutical preparations," Ms. Musakhanian adds.
Selecting the right excipient(s) for the intended delivery system, relative to the type of active drug entity and its targeted therapy is likely to be the key step in saving time and cost to market. Gattefossé assists customers with the selection process by providing pertinent data on physical-chemical information and formulation support.
Skinvisible Pharmaceuticals, Inc.""Delivering Tailored Molecules
Skinvisible is an R&D company that formulates new products and provides life cycle management by revitalizing products coming off patent with its patented, targeted drug delivery system called Invisicare®. Invisicare delivers drugs on, in, or through the skin with a controlled release and can be tailored to almost any type of molecule.
Invisicare has multiple applications, including topical, transdermal, and mucosal (in development). Invisicare is a filmforming complex of hydrophilic and hydrophobic polymers that are readily available and used in the marketplace.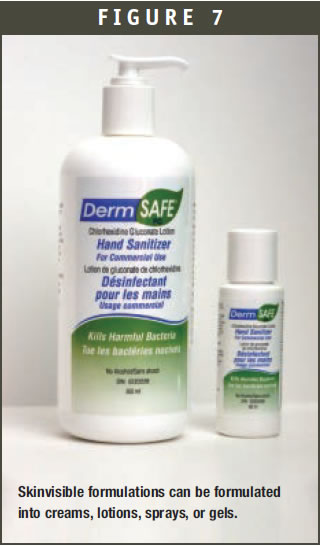 "Our technology is not encapsulation, it is a simple manufacturing process with no special equipment and no shearing required. It is very compatible (flexible) with both water-insoluble and certain cationic active ingredients (positive, negative, and neutral) and certain water-soluble actives," explains Doreen McMorran, Vice President Business Development and Marketing for Skinvisible. The formulations do not use alcohol, waxes, or other organic solvents and can be formulated into creams, lotions, sprays, or gels.
Invisicare represents a "family" of Invisicare structures, each specifically formulated for specific needs. This includes increasing the release of actives (ie, a 3% imiquimod formulation can release 30% of the active), binding of products (for use for hand sanitizers, sunscreens, and sunless tanning products), and/or photostability of avobenzone for 8 hours.
In 2011, Skinvisible was granted two patents: a sunscreen avobenzone photostability patent for the US and a technology patent for Europe. Skinvisible now has 40 patented formulations with various indications, all available for licensing on an exclusive basis, including a recently developed formulation for Netherton syndrome for which the company is seeking orphan drug status in the US and Europe.
Providing innovative, patient friendly drug delivery devices is increasingly becoming a requirement, not an option, when introducing therapeutic products involving traditional needle and syringe use as evidenced by the prevalence of autoinjections, prefilled syringes, and pressure jet applicators offered by most large pharmaceutical companies today.
Zosano Pharma – Using a Patch to Overcome the Needle Experience
Although prefilled syringes, auto injectors, and pressure jet applicators products have improved patient convenience and compliance by reducing preparation and delivery steps, many patients still associate them with a needle experience. Zosano Pharma aims for its ZP Patch (formerly known as Macroflux) to replace the syringe altogether in target compound areas in which the patient needs are the highest.
Zosano's ZP Patch Technology is a userfriendly, simple, and needle-free transdermal delivery system consisting of a patch applied by either a reusable applicator for therapies requiring daily chronic administrations or a disposable, single-use patch applicator system for acute or short-term applications. The ZP patch technology delivers therapeutic compounds via drug-coated microneedles on the patch that permeate the skin's outer layer, provide rapid and efficient systemic delivery, ensure significant therapeutic effect – and is painless. Dry-coated drug on the thin microneedle patch allows for rapid delivery into the skin. The creation of pathways through the skin improves control of drug distribution throughout the patch treatment area, reduces the potential for skin irritation, and provides for efficient drug delivery and absorption.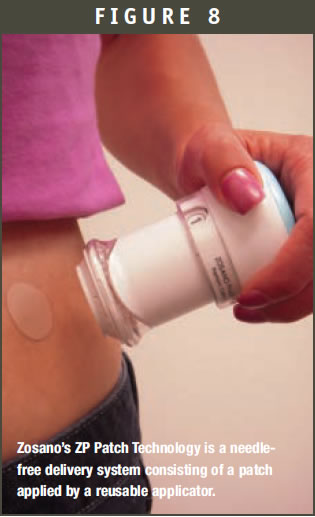 The ZP patch has proven capable of delivering a broad range of compounds, including peptides, proteins, small molecules, and vaccines. It offers the reliability and predictability associated with a "one-step" application without relying on a liquid injection or pre-treatment (permeation) in preparation for transdermal delivery.
Zosano Pharma has identified 10 key drugs that best fit the criteria for the initial product portfolio of the ZP patch. The combined market for this portfolio is at least $20 to $30 billion dollars in worldwide sales. "Current efforts to increase our patch dosage delivery dovetails well with the need for product differentiation in the expanding biosimiliars market and will potentially increase the market estimate even further," says Brian Rippie, Director of Business Development at Zosano.
In October 2011, Zosano Pharma announced a long-term strategic collaboration with Asahi Kasei Pharma Corporation (AKP) for the development, commercialization, and supply of a weekly patch formulation of TeriboneTM (human PTH 1-34). As part of this Asian licensing agreement, AKP has paid Zosano $7.5 million in upfront consideration. In addition, AKP will pay more than $25 million in milestone payments related to development, regulatory, and product launch. Zosano will receive revenue-based royalties based on sales of the ZP patch formulation of Teribone in the Asian territories, as well as reimbursement for all development and manufacturing costs and commercialization. AKP is committing significant additional financial and technical resources toward the development of the patch for the treatment of osteoporosis in the Asian territories, and has already commenced clinical trials, which are now entering the pivotal Phase III stage.
Zosano retains US/Europe licensing rights of ZP patch development of PTH 1- 34 and expects to further capitalize on the momentum gained by its recent announcement on this and other products.
In short, there will be more choices available to the patient than ever before regarding therapeutics and the delivery methods all focused on greater efficacy and improved convenience/compliance, says Mr. Ripple.
"We predict a game-changing moment once the first effective needle free, pain-free drug delivery product enters various markets and the expectation of convenient, needlefree drug delivery is established," he concludes.
THE FUTURE OF TRANSDERMAL, TOPICAL & SUBCUTANEOUS DRUG DELIVERY
Looking forward, the pros predict that future growth rate for transdermal, topical, and subcutaneous products will be slow to moderate. The primary reason for no real "revolutionary" products or technologies in the near-term future is the fact that most pharma and biotech companies continue to be very conservative when it comes to earlystage development and associated risk. Add to that the FDA's conservative stance toward adopting and approving new drugs or new delivery systems/technologies, and you have another significant growth limiting factor Throw in the financial cliff facing the US by year's end and the future of nationalized healthcare, and the picture becomes rather murky.