EXECUTIVE INTERVIEW – Metrics Inc.: Poised for Growth in Contract, Proprietary & Generic Pharmaceuticals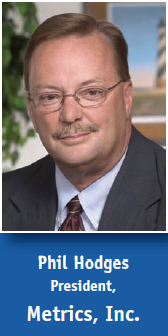 When Phil Hodges co-founded Metrics Inc. in 1994 – with just three other employees on payroll – he set out to build a different kind of contract analytical laboratory. One that was dedicated to scientific excellence, doing the job right, and forming long-term relationships with clients based on mutual trust. Today, with just over 300 employees, Metrics Inc. hasn't changed its focus from trust and strong science, even though its services and capabilities have grown exponentially. Metrics now offers a broad range of contract pharmaceutical development services, including formulation, clinical material manufacturing for Phase I, II, and III trials, commercial manufacturing, and analytical method development and validation services. The company has consistently experienced double-digit revenue growth annually. This past October, Metrics announced it had agreed to be acquired by Mayne Pharma Group Limited, a publicly traded pharmaceutical company based in Melbourne, Australia. Metrics will operate as a subsidiary of Mayne. Drug Development & Delivery recently interviewed Mr. Hodges, who will continue to serve as President of Metrics, to discuss how he will guide the company's future direction and growth, and what the transaction means for Metrics, Mayne, and their customers. Mr. Hodges also has been appointed to Mayne's Board of Directors. Before starting Metrics, he worked for 11 years at Burroughs Wellcome Co. in the field of developing and validating analytical methods. (Burroughs Wellcome eventually became part of GlaxoSmithKline).
Q: For our readers who may not be familiar, can you please provide some background?
A: For 18 years, Metrics has operated as a contract partner to pharmaceutical companies worldwide. Metrics really consists of two separate businesses – there's our contract formulation development and manufacturing business, and then there's our generics business. Both businesses have been successful because of our core analytical expertise. When it comes to analytical scientists, Metrics has a drawer full of sharp knives. Our scientists can take any unique compound and figure out the best, fastest, and safest way to get it into clinical trial. Likewise, for our generics business, our scientists can reverse-engineer pharmaceutical products whose patents are expiring and figure out exactly what is in innovator products. Both businesses have been successful and profitable.
Q: So why sell Metrics and why now?
A: In 2004, when we first started the generic business, we raised $4.3 million from investors, and we promised we'd look for an acquisition within 5 or 6 years so we could return their investments to them. So there was never any question about an eventual sale; the only questions involved how and when that sale would happen, and how it would leave the state of the company.
After spending 18 years of my life building this company, I wanted to make sure Metrics was left in the right hands – that Metrics would continue to prosper financially and support the local economy. Metrics is an important part of the economy in Pitt County (North Carolina) – our salaries are among the highest here, and we do a lot for East Carolina University, an investment the university has more than returned to us. I wanted those local investments and benefits to continue.
Metrics has grown like crazy in recent years – our sales for the fiscal year that ended in June were nearly $52 million. You should sell when you're on a steep slope up, which we have been and believe we will continue to be. Our business model is successful and attractive, making it a good time to attract the right buyer. Plus, we had to look at tax ramifications. There's a chance the Bush-era tax cuts would expire, which could make the transaction much more expensive for investors in 2013, so this provided additional incentive to close the deal in 2012.
Q: How did Mayne emerge as the right buyer?
A: It was a long process. One company we worked with made an early bid, but that didn't pan out. Then another company came in, but those talks didn't progress either. At that point, we realized we needed folks experienced with such deals. I've known Neal McCarthy at Fairmount Partners for years, so he came in and Fairmount put together a book on Metrics and sent it out in March 2012.
Twenty-eight companies signed confidentiality agreements, which gave them access to more details; most of them were private equity firms. Nine companies ended up coming to Metrics and getting the full dog-and-pony show. From there, we narrowed the choices down to four – two were private equity firms and two were strategic partners. I just couldn't get excited about a private equity firm taking over Metrics, so Mayne ended up being the best strategic fit.
I really like Mayne for several reasons. When it comes to our clients, their projects will continue to get the same expertise and personal attention they've come to expect from Metrics. When it comes to our community, we will continue to recruit new employees and pursue new contracts. This sale does not reduce our workforce in Greenville; indeed, we anticipate growing our workforce under Mayne's leadership. And the senior management team at Metrics remains the same.
This sale positions both Metrics and Mayne for significant additional growth in contract, proprietary, and generic pharmaceuticals. By bringing Mayne and Metrics together, both companies benefit.
Q: Can you expand on how both companies benefit?
A: Well, from the perspective of Metrics, Mayne has a strong track record of developing proprietary pharmaceuticals. A deliberate part of their business strategy has been to offer products with proprietary improvements in safety and efficacy, which helps ensure optimum pricing and market exclusivity. So when it comes to proprietary products and technologies, we can tap Mayne's expertise for our clients' needs, as well as our own generics business.
Metrics also will benefit by gaining access to Mayne's more sophisticated infrastructure in back-office organizational support areas as accounting and information technology – as well as Mayne's expertise in intellectual property.
I really like what Mayne brings from a synergistic point of view, and I don't believe they will change our business model very much. They obviously value both the formulation development and generic aspects of our business. This sale isn't about changing Metrics; it's about strengthening Metrics and positioning it for additional growth.
Q: And how does the sale benefit Mayne?
A: Metrics has particular expertise in formulating complex oral products, including highly potent and unstable compounds, controlled substances, and products with poor bioequivalence. These products are sold through exclusive partnerships or through our wholesale distributor, Midlothian Laboratories. So with our large and veteran staff of formulating scientists and technicians, Metrics has knowledge and expertise to share with Mayne.
Mayne also benefits by gaining access to the pharmaceutical market in the United States. In pharmaceuticals, Australia represents 1% of the global market, whereas the United States represents 35%. This sale gives Mayne real access to its most relevant market, expands its capabilities, and accelerates its development and commercialization operations.
Q: What can you tell us about Mayne Pharma that we don't know?
A: Mayne is a specialty pharmaceutical company with an intellectual property portfolio built around the optimization and delivery of oral dosage drugs. Mayne has a long and successful history of modifying existing drugs in order to advance their safety, efficacy, or ease of administration. The company is very technologically driven and has a significant product portfolio and pipeline.
Q: Are there downsides to your new partnership?
A: Truth be told, the most challenging part of this sale has been working around the 15-hour time difference between Greenville, NC, and Melbourne, Australia. Thank goodness for modern technology.
Q: What immediate changes do you anticipate?
A: The next year or so represents a transition period, and I honestly don't foresee a lot of changes. I plan to stay on as President for next 13 months or so, and will continue to serve as a member of Mayne's board of directors after that. The senior leadership team at Metrics is intact and will remain in place, and many of the investors that provided the capital that started Metrics have invested in Mayne, which I believe speaks volumes about their confidence about the sale and what it means for Metrics and our community. Ultimately, the sale of Metrics means that clients at both companies can access more options and more resources that advance their own research and work.
Q: What parting thoughts would you offer clients?
A: I'd offer the assurance that the honorable way Metrics has always worked with clients will never change. Clients will continue to work directly with a Metrics scientist – like they always have – and we remain committed to conducting excellent science and keeping their projects on track.