EXECUTIVE INTERVIEW – Aptalis Pharmaceutical Technologies: Patient Centric Drug Delivery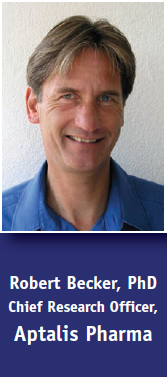 Aptalis Pharmaceutical Technologies offers a broad portfolio of oral drug delivery technology platforms, including Taste-Masking, Bioavailability Enhancement, and Customized Drug Release. Together, these flexible technology platforms combined with the company's licensing, manufacturing, and R & D capabilities enable Aptalis Pharmaceutical Technologies and its partners to produce customized drug formulation solutions across a range of dosage forms and therapies with high patient acceptability. Drug Development & Delivery recently interviewed Robert Becker, PhD, Chief Research Officer at Aptalis Pharma, to discuss Patient Centric Drug Delivery and the company's role in supporting patient compliance and driving commercial value through new drug formulations.
Q: What is patient centric drug delivery?
A: Patient centric drug delivery is the development of drug products that address unmet needs within specific target populations. These target populations include geriatric, pediatric, and dysphagic patients – as well as patients suffering from debilitating mental illness. Due to increasing focus given to the overall therapeutic outcomes of drug therapy, the prescription and consumer health industry is seeking drug delivery technology solutions that can be applied to improve the clinical benefits of drugs for these target populations by enhancing patient acceptance and adherence via improved side-effect profiles, taste-masking of bitter ingredients, or dosing convenience through ease of administration. Controlling these factors can also extend product life cycle and, in some cases, expand the market for a given drug.
Q: For patient centricity in target populations such as pediatrics and geriatrics, what are some of the factors pharma needs to consider to support medication adherence?
A: Very young and old patients are often unable to consume conventional solid dosage forms, such as tablets and capsules. Elderly patients often suffer a higher burden to take multiple medications several times a day. For elderly patients, the pill size, shape, color, and packaging configuration has to be considered to accommodate common limitations in vision and coordination. Adolescents and teenagers lead active lifestyles that are conducive to creating convenient dosage forms. Younger individuals may experience embarrassment regarding their medical condition (eg, acne) and desire a dosage form that can be administered discretely. Patients with dysphagia due to causes such as stroke and Parkinson's disease and patients with mental illness, who are unwilling or unable to take their medications, also are prime target populations for patient centric drug delivery. By giving focus to these patient characteristics and developing products with features that meet their needs, pharma can enhance patient adherence, which is fundamental to the successful medical management of diagnosed illness.
Q: What solutions can Aptalis Pharmaceutical Technologies provide to meet the needs of these patient populations?
A: We offer a broad portfolio of oral drug delivery technology platforms, including customized oral drug-release technologies, bioavailability enhancement technology, and tastemasking and ODT (orally disintegrating tablet) formulation technologies. In fact, our ability to utilize our technologies separately or in combination makes our company's taste-masking platform an industry-leading offering.
For example, our AdvaTab® ODT Technology is capable of high drug loading and is compatible with Microcaps® taste/odor-masking technology – a combination offering patients a pleasant taste experience with a smooth and creamy mouth feel in an easy-to-swallow, fast-dissolving dosage form. By making drugs more palatable, taste-masking can improve compliance and extends product reach to patients who are more taste-sensitive, such as geriatric and pediatric patients.
Our Biorise® technology enhances bioavailability of poorly water-soluble and readily permeable drug molecules by breaking down crystalline forms into nanocrystals and/or amorhpous (noncrystalline) drug. The drug is then stabilized in a carrier system that increases intrinsic solubility and dissolution rate of the drug to enhance rate and extent of absorption for a faster onset of action, equivalent therapy at lower doses, and/or oral dosing of poorly soluble drugs. Through our Biorise® technology, drug developers of an NCE (New Chemical Entity) can advance poorly soluble compounds that otherwise may be discontinued. For commercialized drugs, this technology can reduce dosage amounts and frequency of administration, thereby enhancing compliance, convenience, and above all, patient safety – a prominent concern among pediatric and geriatric patients due to age-dependent variability in pharmacokinetics and pharmacodynamics.
Within our customized drug-release platform, our range of technologies enables customized release profiles that can be tailored to optimize a drug's therapeutic performance and reduce the potential for overmedication. For example, a time-modified release profile can be developed for drugs requiring rapid onset of action followed by maintenance of the therapeutic plasma level within a single dosage unit. Alternatively, time pulsatile release may be optimal for compounds needing rapid escalation of physiological drug levels after a defined delay. In contrast, combination products may require different release profiles for each active ingredient, particularly relevant for geriatric patients in reducing the pill burden associated with multiple-drug use.
Together, our technology platforms combined with our licensing, manufacturing, and R&D capabilities, enable us to produce customized drug formulation solutions for partners across a range of multiple therapeutic classes, such as GI, cardiovascular, pain, nutrition, respiratory, and CNS.
Q: What are the benefits of incorporating drug delivery early in the product development cycle?
A: Technology advances and increasing regulatory demand for safer and more efficacious drugs have enhanced their applications, and now drug delivery technologies are used throughout the drug development process. Traditionally, patent expirations have led pharmaceutical companies to seek adoption of new drug delivery systems for marketed products, potentially adding years of additional patent protection and enhanced market longevity. Today, however, drug delivery technologies are significant in many stages of the product life cycle. For example, pharmaceutical companies use drug delivery technologies to optimize returns on R&D investment by reformulating existing products and/or creating effective formulations for promising, but difficult to deliver molecules that may have been halted in clinical development.
Early application of drug technologies can strengthen market adoption by creating a more differentiated, attractive product upon market entry. This type of approach can add further market protection to the brand by establishing a broader IP estate to challenge generic entry through the creation of new patentable material and extended patent expiry dating.
By moving away from the traditional business model that has shaped the pharmaceutical industry in the past, pharmaceutical companies can look to drug delivery companies as full strategic partners. These partnerships can enable increased R&D productivity, improved drugs, extension of product life cycles, and strengthened offerings resulting in clinical relevance that reshapes healthcare.
Q: How can Aptalis Pharmaceutical Technologies create a pathway to market access for its partners?
A: Aptalis Pharmaceutical Technologies aims to differentiate its services by offering partners multiple components in the drug development process to create a pathway to commercialization, including 1) formulation expertise to target novel clinical outcomes and 2) a combination of product-related and technology patents offering market protection and support to regulatory filings, all building a foundation for the goal of providing regulatory approval and market exclusivity for the partner once the product reaches the market.
To meet our partners' business needs, we offer resources for the development of new product formulations, as well as licensing of existing product formulations. We have increased the flexibility of our business model in response to partners' needs, and in select cases, may also invest resources into the development of the product.
Our R&D and manufacturing processes are physically integrated within our facilities to enhance the flow of product development from formulation through scale-up and commercial manufacturing. This turnkey approach enables our partners to maintain the consistency associated with a single partner relationship, eliminating the need to work with multiple vendors during product development, which can lead to repeated quality validations. We manufacture all of the products that we develop for our licensees with facilities owned and operated by Aptalis. These high-quality cGMP facilities in the United States and Europe are approved to handle controlled substances and the use of solvents. Our positive history of cooperative collaboration with the US FDA and regulatory agencies and licensees in Europe, Asia, and the Middle East have resulted in highly successful quality inspections and international audits with multiple audits conducted annually.
Our use of best-practice alliance and project management teams enable pharmaceutical companies to work with us in collaborative partnerships with common expectations and goals. This model promotes quality partnerships and enables shared expertise, information, and workflow optimization across all functions and stages of the product development cycle. Given our fully integrated development and management model, we can leverage efficiencies across all stages of development to provide our partners with a more cost- and time-effective path to approval and to market compared to various contract manufacturing scenarios.
Aptalis Pharmaceutical Technologies endeavors to offer partners the most effective patent protection possible from the company's broad and diversified portfolio. This portfolio comprises patents with claims directed to the company's formulation technologies and related materials, processes, equipment, and methods of manufacture. Additionally, there are many product-related patents, which contain more specific claims directed to particular drugs or classes of drugs in combination with formulation technology. Currently, the company-owned and in-licensed patent portfolio contains more than 475 active granted patents, with more than 300 patent applications pending.
Q: Can you provide an example of one such pathway to market access?
A: Our company's formulation expertise was evidenced in January 2012 with the FDA approval of an NDA for an oral powder formulation of Gilead's Viread®. The company used its Microcaps® proprietary technology to co-develop Viread® (tenofovir disoproxil fumarate) oral powder in combination with other antiretroviral agents for the treatment of HIV-1 infection in pediatric patients aged 2 to 5. Co-developed by Aptalis Pharmaceutical Technologies and Gilead, the oral powder formulation of Viread® uses the Microcaps® taste-masking technology. The market launch of Viread began in February 2012. Gilead will be responsible for the product commercialization, while our company will manufacture and supply the oral powder to Gilead.
The microencapsulation technology, known as Microcaps®, employs versatile and precise coating techniques to encapsulate individual drug particles using solvent- and aqueous-based coacervation. This includes taste- and odor-masking, customized release profiles, conversion of liquids to solids and the separation of incompatible materials. Microcaps® can also be combined with the company's AdvaTab® technology to provide an orally disintegrating tablet with superior mouthfeel attributes.
In summary, Aptalis Pharmaceutical Technologies develops and manufactures enhanced pharmaceutical oral products, applying this expertise to product development for partners who wish to provide innovative, effective patientcentric therapeutics for unmet medical needs.
Late Breaking News
In November 2012, the European Commission granted marketing authorization for a new pediatric indication of a new oral granule formulation of Gilead Sciences, Inc.'s Viread® (tenofovir disoproxil fumarate) for HIV-1 infected children aged 2 to less than 6 years, and for HIV-1 infected children above 6 years of age for whom a solid dosage form is not appropriate. This authorization, which covers all 27 countries of the European Union (EU), follows the January 2012 U.S. Food and Drug Administration's (FDA) New Drug Application (NDA) approval of Viread® oral powder in combination with other antiretroviral agents for the treatment of HIV-1 infection in pediatric patients ages 2-5. Aptalis Pharmaceutical Technologies is the manufacturer and supplier of Gilead Sciences, Inc.'s Viread® (tenofovir disoproxil fumarate). To learn more, visit the Aptalis Pharmaceutical Technologies website at http://AptalisPharmaTech.com/.